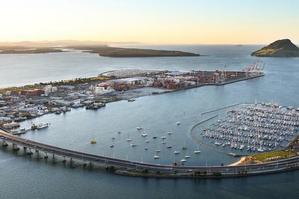 As holiday-makers descend on the Mount this weekend, their trip will be streamlined by the completion of the Bay of Plenty's largest engineering project.
The $255 million Harbour Link opens this morning, and the 30,000 daily commuters between Tauranga and Mt Maunganui are expected to experience more free-flowing traffic immediately.
New Zealand Transport Authority project manager Kevin Reid said the project was a transport success story, finishing ahead of time and under budget and with little interference to the daily life of residents.
"We've had 2 years of major construction work in the middle of Tauranga and not really had a serious impact on daily life. It was a real challenge to not stuff things up, it's such a complicated site."
He said he could not overstate the longheld interest Tauranga residents had in having an efficient transport corridor. This was evident in the 15,000 residents who attended the walkover of the duplicate bridge in September.
Three years ago, commuters faced heavy congestion in the harbour, with bottlenecks at Chapel St and Dive Cres. Motorists had to compete with trucks feeding New Zealand's largest port, and chose to attempt "rat-runs" down local streets instead of braving the main road. Cycling and walking options were non-existent.
"It was a nightmare if you wanted to do anything but drive," said Mr Reid.
The Harbour Link provides four-lane travel and a duplicate harbour bridge - a 525m arc which sits alongside the older, renovated bridge. A 2.5m-wide walkway and cycleway constructed on the new bridge is already heavily used by commuters.
The project is also expected to benefit the economy in the region, with trucks gaining better access to the port.
Transport Minister Steven Joyce and Tauranga Mayor Stuart Crosby will officially open the complete link this morning, and the first car is due to cross at 11.40am.
The second, newer bridge is considered a legacy of former Tauranga MP Winston Peters, who was instrumental in pushing its development and in negotiating a toll-free deal as part of NZ First's coalition agreement with Labour after the 2005 general election.
However, Mr Peters' key role in the project seems to have been overlooked - he has been snubbed by road authorities for the opening, and has not even received an invitation.
ROAD TRIP
Bay of Plenty's biggest engineering project.
Four-lane travel between Mt Maunganui and Tauranga.
Duplicate harbour bridge.
New walkway and cycleway.
$255 million cost.
3 years to complete.
100-year life expectancy.
30,000 cars cross daily.