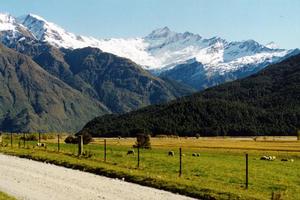 The Government is being recommended to set aside up to a fifth of Mount Aspiring National Park's 350,000ha for possible mining and exploration, according to a leaked report.
The Green Party yesterday released the leaked memo, which detailed a report from Government officials recommending that the northeast sector of the park - near Haast Pass - be considered for removal from its protected status.
"The rumble of Brownlee's bulldozers just got louder," Green Party co-leader Metiria Turei said.
Energy and Resources Minister Gerry Brownlee announced in August a Government review of schedule 4, which prohibits mining and exploration in national parks.
Ms Turei said the memo proved the Government was not telling the truth about its intentions regarding mining and exploration within the conservation estate.
Ministers were not only planning to allow mining in national parks, they were also considering removing the protection against mining from large areas of them.
"Once these areas are removed from schedule 4, they will never get their protected status back," Ms Turei said.
She said the memo had been provided in confidence to her and came from an emailed Department of Conservation request to Ngai Tahu asking for its view regarding removing 20 per cent of the park from the protected schedule.
Mr Brownlee said yesterday said he was still waiting for reports from Ministry of Energy and Resources and Ministry of Economic Development officials.
The Government had made "no secret" of its intentions to conduct a "stock take" of New Zealand's mineral resources, he said.
The reports would be publicly released once he had seen them, Mr Brownlee told The Otago Daily Times.
He said the Government had already indicated that where land had high conservation value it "wouldn't be touched".
He did not know where the threshold of "high conservation value" would be set.
"Like I said, I'm still waiting for these reports."
- NZPA