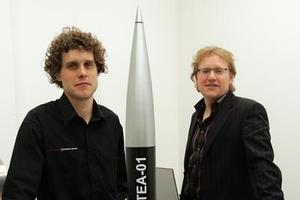 A technical hitch has thwarted New Zealand's bid to join the space race.
The launch by New Zealand aerospace company Rocket Lab of Atea-1 from Great Mercury Island, off the Coromandel Peninsula, was delayed for several hours due to a fuel problem.
At 7.42am, 32 minutes after it was due to lift off, the rocket still sat on its launch pad with white vapour pouring from it.
It was understood that there had been a problem with nitrous oxide causing a coupling to freeze, and it would be three hours before the rocket could safely be approached.
If successful, it would be the first time in the southern hemisphere a privately owned company had launched a rocket to space.
The company started up three years ago with the aim to develop a series of Atea rockets that would make space more accessible, company director Mark Rocket said last week.
"This is the first step in a long journey," he said.
Atea is the Maori word for space as the team wanted an indigenous name for the rockets.
The first rocket Atea-1 has been named Manu Karere by the local Thames iwi, which means Bird Messenger.
The small rocket was expected to travel at Mach 5 to an altitude of 120 kilometres - 20km on from where space starts - then return to Earth in a sub-orbital ballistic arc, to be recovered from the sea.
The cost of the project has been mainly met through private investment from Rocket Lab, although it has received some funding from the Government and a number of agencies around New Zealand.
Rocket Lab chief executive Peter Beck said Atea-1 had a 2kg payload capacity.
The project would give the global scientific community the first practical alternative to conventional rockets at significantly lower cost, as it could carry miniature scientific equipment.
- NZPA