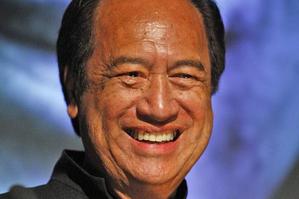 A doyen of New Zealand literature has compared plagiarism to drug cheating in sport because of the unfair advantage it gives over contemporaries.
Award-winning author and poet Vincent O'Sullivan, an emeritus professor of English at Victoria University, was reluctant to comment directly on the "Witi Ihimaera situation" but said the drugs analogy was fair.
"It's a performance-enhancing technique that works at someone else's expense," he said.
"Apart from the personal ethical issues involved, plagiarism gives an unfair advantage over contemporaries and colleagues."
His comments follow further claims by Professor Keith Sorrenson, a University of Auckland emeritus history professor, that Ihimaera plagiarised his work in the award-winning novel The Matriarch and later apologised to him.
Professor Sorrenson says the latest plagiarism row - in which Professor Ihimaera has admitted using unattributed material from 16 other authors in his latest book, The Trowenna Sea - showed he had "learnt nothing" from the earlier incident.
Professor Sorrenson decided to not lay a formal complaint, but mentioned the plagiarism in passing to a journalist who wrote a story for a Wellington newspaper.
Professor Ihimaera did not respond to telephone messages or emails yesterday.
He has apologised for the "errors" but said the unacknowledged work in The Trowenna Sea was only 0.4 per cent of the 528-page book.
Professor Ihimaera is buying the remaining stock of the novel and publisher Penguin Group (NZ) is offering to take back stock from any bookseller who wishes to return it.
A revised edition will be published next year, acknowledging those passages and their writers.
Professor Sorrenson said he was annoyed that Professor Ihimaera had been named as one of five Arts Foundation laureates and had received a $50,000 donation.
"It was awarded for a body of literature which included The Matriarch. It's not just this latest book. He doesn't seem to have learnt anything because he's done it again."
Professor O'Sullivan said accidental use of unattributed material was understandable, but university staff should be held to the same level of accountability as students.
Earlier author C. K. Stead also weighed into the debate and criticised the University of Auckland for downplaying the plagiarism.
Also a professor emeritus at the university, Professor Stead told Radio New Zealand that students had it "hammered into them" that they must acknowledge borrowed work.
"You reject students' essays for doing this and you fail them in exams for doing it.
"It makes you wonder what the title of a distinguished professor means in the University of Auckland, if they then say what Witi Ihimaera has done doesn't matter.
"It's really like saying 'Well, yes, I did steal from 16 people but I only took a dollar from each'," he said in the radio interview.
Professor Stead said the situation would reflect badly on the university until the seriousness of what had happened was acknowledged.
Students who contacted the Herald believed there was a double standard at the university.
In response to the criticism, the university released a statement which said that unacknowledged use of the work of others, by staff or students, was "totally unacceptable".
The decision to remove The Trowenna Sea from sale was the "right step" to take in view of the "inadvertent inclusion of some unacknowledged material," Associate Professor Jan Crosthwaite said in the statement.
An investigation, which followed university guidelines for conduct of research, found there was no deliberate wrongdoing by Professor Ihimaera.
WHAT DO YOU THINK?
Should Witi Ihimaera keep his job?
Tell us at newsdesk@nzherald.co.nz