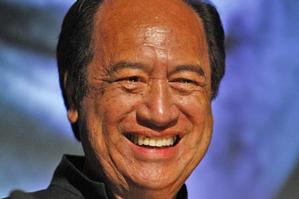 Witi Ihimaera is to buy back all remaining stocks of his novel The Trowenna Sea after admitting plagiarism.
At the same time, publisher Penguin says it will take back stock from any book seller wishing to return books.
A new edition of The Trowenna Sea will be published next year, containing a new section with an explanation by Ihimaera and full acknowledgement of the writers whose work he used.
The author says he has taken the steps to preserve the mana and integrity of the novel.
Despite the plagiarism row, Ihimaera was last night presented with a prestigious arts award and a $50,000 prize.
The writer of Whale Rider was embarrassed by revelations that his latest novel contains passages by other authors without attribution.
He apologised for the oversight, which he said amounted to less than 0.4 per cent of what had been published, and promised any future editions of the book would include proper acknowledgments.
The plagiarism was revealed when a reviewer googled phrases from the book.
Jolisa Gracewood reviewed the book, which went on sale at the beginning of the week, for the New Zealand Listener.
It tells the story of Hohepa Te Umuroa, who was convicted of insurrection and transported as a convict to Tasmania with four other Maori in the 1840s.
In her blog, Jolisa Gracewood said that while reading the novel, she had a feeling something was not right with parts of the text.
"Google was my first port of call - it turns out that Google Books is bad news for authors, in at least one more way than previously suspected ..."
However, there was "no joy" in stumbling across 16 examples which the magazine put to Ihimaera.
Gracewood said that as a writing teacher, "I'd occasionally come across a phrase or a paragraph that was somehow out of kilter with the surrounding text. It's a curiously physical phenomenon: the hairs on the back of your neck go up, and your heart sinks.

"Sometimes it's a false alarm," she said. "But I never expected to encounter that feeling as a book reviewer, let alone with a new work by a respected writer."
Listener examples of Trowenna passages put to Ihimaera include paragraphs from author and journalist Peter Godwin, American academic Karen Sinclair and works edited by Charles Dickens.
- NEWSTALK ZB, HERALD STAFF