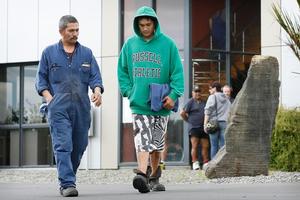 Wellsford's largest employer is to shut a week before Christmas with the loss of 56 jobs, just seven months after 105 staff were made redundant.
The closure of Irwin Industrial Tools is a blow, but not a shock, to the people of Wellsford, where the factory has been the principal employer for decades.
The company - which makes circular saw blades, nearly all of them for export - announced yesterday that the factory would close on December 18.
Workers said they had hoped that the decision would have been taken after Christmas, and were now looking further afield than the town for a future.
Alan Martin, who has worked at Irwin for 12 years, said no one was surprised by the announcement and it was a relief to finally know what was happening.
"The company is going to look after us; they're a good company to work for," he said, but added: "We were hoping it would be after Christmas."
He said the redundancies in March had been harder to take as they were unexpected.
While he is unsure what he will do for work, Mr Martin said some staff had begun making plans and were looking for jobs outside Wellsford.
"The 17th is our last day of work, the 18th is a party."
Panapa Joseph, who has spent seven years with Irwin, will head back to Auckland with his wife and their six children to look for work.
Mr Joseph's wife is also employed at the factory.
"We moved here because it was a big company and we trusted the jobs would be here for a long time.
"It started with 500 staff and it keeps getting smaller."
Jessie Ruka started looking for work when the company first told employees it was considering closing the factory.
After spending three years with Irwin, Mr Ruka has a job lined up fishing in Westport.
Operations director Michael Kelly said Irwin was offering staff counselling as well as support services ranging from putting together a CV to help with applying for social welfare.
The company exports 99 per cent of its circular saw blades and the US is its largest market.
Mr Kelly said this was because of the volatile New Zealand dollar and the impact of the recession on the US housing market.
This latest round of redundancies means closure for the factory, but the commercial distributor in Albany will remain open. The Albany store mainly stocks goods from overseas, but does take some stock from the factory.
Mr Kelly said this stock would now be supplied from China.
While December 18 is officially the last day of work, some staff will be back after Christmas to tidy up.