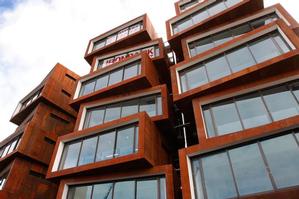 A radical new Auckland building is one of the country's first high-rise office blocks without air conditioning - but with robots parking cars.
The Ironbank at 150-154 Karangahape Rd is a six-level office/shopping development completed and being leased by one of the city's wealthiest landlords, Samson Corporation.
Daniel Friedlander of Samson is drawing praise in the architectural community for commissioning RTA and pushing the limits of innovation with the unusual building, on the old Deka site on the Newton side of K Road in the Queen St/Mercury Lane block.
In mid-October, the 4500sq m building won RTA Studio an Institute of Architects' Auckland area prize, praised for being great on every level and an example of what the development community should strive for.
Architect Malcolm Walker described it in Urbis Magazine as "kindergarten day in a shipping yard".
He said the iron giant, clad in GRC concrete and rusted weathering steel and whose towers of copper-coloured boxes he likened to "a stack of Ned Kelly rejects", was RTA's most complex and adventurous building.
Vehicle entry into the basement is via the one-way Cross St running parallel with K Road. Lights embedded in the floor guide cars to one of three 'virtual garages'. These are temporary parking spaces for cars before robot-like parking machines arrive to move the vehicles and place the car somewhere on the four-level wall behind.
In these virtual garages, cars are driven on to a circular-shaped grid or rotating turntable behind plate glass doors. The driver leaves the garage and confirms he or she has left on the ticket station outside the garage.
The glass doors shut and the car is scanned for pets and people before a robot arrives to shift the car.
That robot or trans-elevator lifts the car by its wheels into a vertical parking bay. On return, the driver swipes a computer chip (proximity locator) in front of a screen to have the car moved off the wall and parked back into the virtual garage.
Once the car is back inside, a turntable beneath it rotates 180 degrees to allow the driver to leave without having to reverse.
After the car is rotated, the glass doors open, the driver returns to the vehicle and drives out of the basement on to Cross St.
Friedlander said the building with a small footprint had parking for 95 cars, at least a third more than possible with more traditional carparking systems.
"The technology for this automated carparking system came from Italy and the structural equipment from China."
Auckland carparking specialist Olympia Group is operating the system and its general manager, Brett Jenkins, said the robot-like carparking machines were actually electronically programmed silomets which ran without the need of people to be present.
In a radical departure for a new Auckland high-rise, the offices above have no airconditioning.
"You don't need air conditioning. Just open a window," said Friedlander, unlocking a pair of floor-to-ceiling north-facing glass doors. A night-purging system automatically senses the temperature and opens and closes high, secure side-windows.
Friedlander said he was not aiming to accommodate traditional-style office workers at Ironbank but instead was expecting "people who are creative, energetic, maybe in the IT area".
The street-level retail areas would attract art gallery and restaurant tenants, he said, while the offices might suit graphic designers and IT workers.
Walker praised Samson's vision.
"Buildings don't just arrive through some magical process and it takes clients with the initial vision and understanding to be able to initiate (and fund) them," said Walker.
"Richard Naish of RTA says Samson led the project, supporting its unconventionality and at times asking them to go further, to try harder. These buildings are not short-term investments. Payback comes from point of difference and quality."
Regarding cost, Friedlander would say only that it was between $20 million and $40 million.
Daniel's father, Michael Friedlander, appears on the NBR Rich List at $700 million, said to be the country's richest landlord with hundreds of shops, showrooms, houses, warehouses and commercial buildings. The Friedlanders own many of Ironbank's neighbours and have a website, forlease.co.nz, advertising their space.
But Daniel Friedlander said Ironbank, which had not a single tenant mid-October, was not purely a commercial play. "Anyone can build a box.
"What does the market not have? What would add value to a tenant?" he asked, castigating Auckland City Council for not encouraging excellence in urban design.
"The trouble we had building good architecture and design - anywhere else in the world, a council would be proactive but not in New Zealand."
The Green Building Council is assessing Ironbank which Friedlander expects to score at least 40 points and get five green stars.
ECO-FRIENDLY BUILDING
* System for harvesting water.
* That water used for toilets.
* Recycled building materials.
* Solar water-heating system.
* Robot-controlled carparking.
* No air conditioning.
* Natural ventilation system.
* Night-purge air system.
* Low-emissivity glass.
* Energy-saving fluorescent tube lights.
* Ground-floor bike parks and showers.