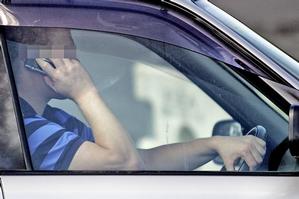 Holding your cellphone while driving is now banned - but debate is still raging over whether the new law will reduce the accident rate.
As of 12am today, motorists face an $80 fine and 20 demerit points for answering phone calls, holding a phone to your ear, talking or texting - even while stopped at a red light or in gridlock.
Criminal defence lawyer and self-proclaimed "professional excuse maker" Karen Harding, who specialises in helping people facing driving charges, said the new law would not prevent accidents.
The new law allows drivers to use hands-free kits and phone cradles while driving.
Harding recently represented a man who crashed into a parked car while reaching for his hands-free kit to answer a call.
"The driver lent over to press the button and went right into three parked cars," said Harding.
The driver had a phone cradle and hands-free kit and was now facing a damage bill of $30,000.
Harding said the demerit points system would harm those in occupations that rely on cellphone use, such as truck and bus drivers.
"If you get 100 demerit points in two years you lose your licence for three months. The consequences of the demerit points are worse than the fine."
This would lead to a large number of disqualified drivers fighting to get work licences.
A 2005 Lincoln University study - Driving and Cell Phones by Professor Jack Rose - said banning cellphone use while driving was a short-sighted solution.
Hands-free kits would fail to reduce the number of accidents because the physical handling of cellphones was not the cause of accidents. Accidents were caused by the conversation that follows.
Drivers concentrate harder on the phone conversation because they cannot pick up the same verbal cues as talking face to face.
The study found it would be safer to teach drivers how to operate a vehicle safely while talking on a cellphone than to use hands-free kits.
These findings are backed by the Automobile Association, which says hands-free kits are as dangerous as holding a cellphone to your ear.
Police are welcoming the new law. Senior constable Cory Ubels, of Hawke's Bay, said he had been investigating several recent accidents - including one fatal crash - in which cellphone use was implicated.
* Things you need to know about the law
You can not answer or make phone calls with a handheld phone while driving.
Creating, sending or reading texts, email messages or video messages, while driving, is banned.
Making genuine emergency 111 calls is permitted. This includes *555 calls used to report dangerous driving.
Making or receiving calls if the phone is "secured in a mounting fixed to the vehicle" is allowed. This typically means a cradle, or fully integrated systems. But the driver can only manipulate a securely mounted phone "infrequently and briefly".
Earphones, headsets and mouthpieces attached to phones can be used, provided the driver does not hold or manipulate the phone.
You can use music functions, provided the device is mounted.
Using a phone if stuck in traffic because the road is blocked by an accident or other cause is permitted.
This does not apply when drivers are "stationary in the normal flow of traffic, such as approaching intersections, traffic lights or roadworks".
Using a phone while on a bike or motorbike is not allowed.
- HERALD ON SUNDAY