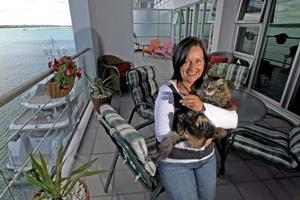 A pet cat escaped with only three broken teeth and a fractured jaw after falling six storeys from an apartment balcony on Auckland's viaduct.
Graeme and Alison Pike are surprised tabby Camo didn't fall on to someone's plate in one of the restaurants on the waterfront.
The cat lives with the couple on the fifth level of the Auckland Waterfront Serviced Apartments they manage on Princes Wharf.
Mrs Pike said neither she nor her husband had seen the fall but guessed Camo must have either jumped on top of the glass balustrade surrounding their balcony and fallen on to the tarseal between the building and the harbour, or ducked under it and fallen off a concrete ledge.
Her fall may have been broken by a balcony on the bottom floor which juts out further than their one, Mrs Pike said.
The couple received a call from the Princes Wharf security saying Camo was hiding under a sofa at Limon restaurant, about 30m further along the wharf, and had a bleeding mouth.
But when the Pikes took Camo to the vet, she only needed three of her teeth extracted. Her fractured jaw was left to heal on its own.
"The vets eyes were definitely raised," Mrs Pike said.
"He said she was a very lucky cat. He'd seen cats that had fallen from one-storey and died."
Now Camo would not walk along the balustrade like she used to, only peeping over the balcony, Mrs Pike said. The cat has lived with her owners in various tourist accommodation around the country and in Australia but had not lived in an apartment before until the Pikes moved to Auckland 15 months ago.
"She's really an outdoor cat," Mrs Pike said. "But we checked with the vet before we moved to see how she would cope all of a sudden being in a confined space. He said she'd be fine, cats were one of the most adaptable animals in the world."
Kate Hill, senior lecturer in small animal medicine at Massey University, said Camo was lucky to survive but pointed to research about feline high-rise syndrome - the term used when cats fall from balconies of highrise buildings in urban areas, the minimal height being the second storey - which says cats reach terminal velocity after falling five storeys.
The incident follows the story of a pet cat which survived 19 hours in his owners' freezer which was programmed to about -18C.
Sarah Crombie, of Te Kuiti, discovered one-year-old Krillen lying stiff and semi-conscious on a bag of dog food when she went to get a loaf of bread.