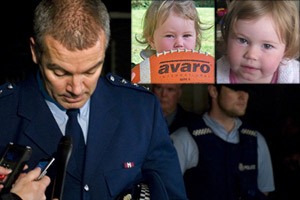 Lord Ashcroft has stepped into another New Zealand criminal inquiry.
Police Commissioner Howard Broad says the British aristocrat has offered a reward of $50,000 for information leading to the safe return of Aisling Symes.
Last year, Lord Ashcroft offered a reward of $200,000 after the Waiouru Army Museum's war medals were stolen.
The Henderson 2-year-old was last seen at 5pm last Monday, near her late grandparents' Longburn Rd home in the Auckland suburb of Henderson.
A west Auckland school will tonight discuss student safety at a meeting tonight, following Aisling's disappearance.
Henderson Intermediate principal Bruce Dale said the school was concerned about the safety of its students.
"We're obviously concerned, we always are," Mr Dale said.
Over at Don Buck School, principal Jennice Murray said there were some kids who were anxious not to get out of cars this morning.
"We made sure there were some of us at the gate to take care of the anxiety," Ms Murray said.
She said there was an increase in foot traffic from mums this morning.
Ms Murray said teachers are out in the afternoons to keep an eye on students as they leave school.
She said she expects more parents to drop their kids at school now, rather than letting them walk or cycle.
The number of police now working on the disappearance of Aisling has increased to 70, with no breakthrough a week on.
Inspector Gary Davey said police had received a lot of information on the case.
"We are still appealing for anyone who has her to come forward. We just want her back."
He said today he was still hopeful someone had abducted the toddler and was looking after her but could not rule out other possibilities.
"My own genuine hope or gut feeling is that somebody does have her and she is still alive," he told Newstalk ZB today.
"I believe that. I am optimistic, I believe family are and certainly the investigation team are optimistic that we can find Aisling."
Yesterday, Mr Davey urged the person responsible either to contact him or drop Aisling at a hospital.
"Whoever you are, you might be scared or intimidated by police activity over the past week. Don't be - call me. We just want to know where Aisling is," he said.
The last person to see Aisling was a 9-year-old child - who reported seeing an Asian woman with a dog approach the toddler near her late grandparents' Longburn Rd home just after 5pm last Monday.
It is the strongest lead police have and they want to hear from anyone with information on the woman - described as being in her mid 30s, about 165cm tall, of medium build with long, straight black hair.
The woman had a dog and was wearing a black crew-neck top with three-quarter-length sleeves, three-quarter-length blue jeans and black leather sandals with black socks.
Mr Davey reminded parents to be vigilant "without becoming unduly fearful" when sending children back to school today.
Longburn Rd was deserted yesterday, with unmarked police cars parked in the driveway of the house from which Aisling disappeared.
Two houses down, Janet Neho said she was keeping a close eye on her children Jahkaliah, 3, and Jairah, 1.
Mrs Neho was eager to join a Neighbourhood Watch group set up since Aisling's disappearance.
Cherie Tahitahi, who lives next door to the house, said the group was formed "for safety" and because some people felt victimised by attention given to "persons of interest" in the area. The group would meet this week, with a police representative in attendance, she said.
Across the road another member of the group said Aisling's disappearance was a wake-up call to the importance of knowing your neighbours.
Police are reviewing CCTV footage from the area.
Mr Davey said police would continue profiling people of interest, and sorting information from the public.
"While several people of interest have been profiled by the intelligence section and suspect team, we have not had any strong information that might lead us directly to Aisling," he said.
News of Aisling's disappearance is making headlines in father Alan Symes' native Ireland.
He emigrated to New Zealand - with sister Aithne and mother Olwyn - more than 18 years ago.
Mrs Symes said Aisling had started learning the Irish counting system and loved potatoes.
"She always used to get into the spuds and when she started teething we would find bite marks in the raw potatoes."
Thousands of New Zealanders have joined internet networking sites calling for Aisling's safe return.
Kidsmart, a unit of Rapid Response Charitable Trust, has set up an online donation system - at www.givealittle.co.nz - to support the Symes family and the search for Aisling.
- NEWSTALK ZB