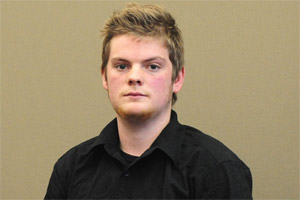 Animal welfare chiefs have revealed their list of shame - 52 acts of serious cruelty in New Zealand in the past 12 months.
National SPCA boss Robyn Kippenberger said the year had seen more "extreme" cases than ever and urged Kiwis to back Paw Justice, a campaign for tougher laws on animal abuse.
Two stuntmen and boxer Shane Cameron's manager started the campaign which is backed by Lucy Lawless and stars from Shortland Street and Outrageous Fortune.
They launched a petition last month calling for MPs to increase the sentence for neglect from six months to a year, and for wilful ill-treatment from three years to five.
Topping the list is Dunedin 19-year-old Jeffrey Hurring, who in June received the longest sentence in New Zealand for animal cruelty - 12 months in jail for killing an 18-month-old Jack Russell. Hurring's sentence was reduced to 10 months after a judge ruled not enough consideration had been given to his guilty plea, age, naivety, immaturity and lack of criminal convictions.
Hurring tried to strangle the dog using a chain and when the dog was still alive 30 minutes later, poured petrol down its throat, put a pillow case in its mouth and finally hit it with a spade.
He was also banned from owning a dog for 10 years, ordered to pay almost $1200 reparation to the SPCA and to continue counselling for drinking and other issues.
Other cases on the list include:
Wayne Williams, 34, of South Auckland: sentenced to four months in jail for beating his partner's dog Gee Gee with a metal pole, before strangling it to death.
Kurt Sharp, 18, of Waiuku: sent to jail for eight months for attacks on three pet goats. Two of the goats died after he tied them to the towbar of a car and dragged them along the road before they died. He was also sentenced for burglary offences and received a total two years' jail. Rodney John Burt, 50, a builder from Christchurch: fined $3800 for starving and dumping a dog.
Pukekohe woman Liz Tonga, 54: banned from owning an animal for five years after her dog was found in an emaciated condition.
Peter James Cooksley, 48: fined $500 and ordered to pay $1030 costs for killing a cat with a crossbow last December.
Kippenberger said she was bracing herself for summer when there tended to be a spike in acts of cruelty against animals.
She asked the public to report any concerns about animal cruelty or neglect to their local SPCA branch.
FULL SPCA LIST OF SHAME
October 2008
* A Dannevirke father and son, Ian and David Livingstone, are convicted for starving their sheep.
* A Christchurch labourer is fined $3800 for starving and dumping his dog on an isolated road on a freezing winter's night.
* Two Bay of Plenty teenage boys escape a conviction after killing a seagull with a slingshot, and then setting it on fire.
* The Rotorua SPCA investigates three fishermen who killed a deer by jumping on its back and drowning it.
November 2008
* A mutilated cat is found hanging by a piece of string from a street sign in Tauranga. A 14-year-old was charged and sentenced in March to 10 weeks in a juvenile facility in Auckland.
* Three ten-week old puppies are found dead, tied-up in a plastic bag on a Mount Manganui beach.
* A five month old puppy, named Polly, is discovered suspended upside down from a garage door at a property in Warkworth, North of Auckland.
* South Auckland man, Wayne Williams, beats his fiance's dog repeatedly with a metal pole, before strangling it to death with his bare hands.
December 2008
* Manukau man, Peter James Cookley, is charged with killing a cat with a cross bow.
* A Waitakere Mastiff-Labrador cross had to be put down after suffering psychological problems after it had its mouth and legs tied together with electrical tape and rope.
* A Labrador-Pit-bull cross is dragged 50 metres behind a 4WD through the streets of Napier.
* Two teenagers on a motorbike deliberately run over a two year old cat in Wanganui.
* The SPCA is forced to put down a nine year old dog, after it was all but starved to death by its owners.
* A pet goat on a South Taranaki property is brutally attacked late at night. It was held down, while one of its horns is hacked off with an axe.
* Pukekohe woman Liz Tonga, is banned from owning a dog for five years, and sentenced to 250 hours community service for starving her Staffordshire Bull-Terrier.
January 2009
* A Hawera man takes his moggie to the vet, for what he thinks is a sniffle, but x-rays reveal Barney had been shot through the nose with a slug gun pellet.
February 2009
* Waiuku man Kurt Sharp is charged with the theft and wilful ill-treatment of a goat causing death, after tethering the animal to the tow-bar of a car and dragging it for two kilometres until it died.
* A four month old german shepherd puppy is found dead, with it's legs tied together and damage to its rectum, floating inside a woollen bale bag on a Napier beach.
* A wild nanny goat is killed in Napier after being shot three times by a teenage boy with a crossbow.
* 19-year-old Jeffrey Hurring tries to strangle his Jack Russell with chains and his bare hands. He then pours petrol down the terrier's throat before finishing the job, by hitting him over the head with a spade.
* A mother arrives at a Wellington cat foster home with a kitten in agony, after its tail had been all but cut off by children, either using scissors or a knife.
* A 12-week-old kitten is handed into a cat foster home in Wellington in a starving state.
March 2009
* Two starving poodles are dumped at the Canterbury SPCA.
* A Whitianga man is fined $4850 after being found guilty on five charges of mistreating his cows and goats.
* A baby kitten is discovered alone on the side of the road by a passing motorist in Napier. She was the only survivor from a litter of kittens found dead in a culvert - most had drowned and one had been run over by a car.
* A male cat is found in Manawatu, with a 2km iron trap around its paws.
* A male cat is found dead, dumped in a bin outside public toilets in Waipukarau, central Hawke's' Bay. It was shot in the head, and was wet, suggesting those responsible had also tried to drown it.
* A short haired cat is found near Tauranga with its collar so tight that it had worn right through the side of his neck, leaving a gaping wound.
April 2009
* A young Labrador, weighing 10kg, is taken into SPCA care in Tauranga, suffering severe starvation and rickets.
* Two Rotorua dogs from the same property are left for days in agony after receiving serious injuries from fighting one another. They are eventually put down.
* Five dying puppies are found washed up in a sack on a remote West Coast beach in the South Island.
* A three-week old kitten is dumped on a Wellington cat foster home, with an industrial-sized staple through its head.
* A ten-week-old kitten is dumped on a Wellington cat foster home, bound with fishing line around its body and paws. It dies within minutes of being freed from the line.
* Three teenagers on a student holiday blow a sheep's mouth apart with fireworks and then set the animal on fire.
* A five-week-old puppy is thrown from a moving car down the main street of Kaitaia.
* William Kain Campbell, 25, pleads guilty to stealing an elderly dog named Lincoln to use as bait for dog fighting.
May 2009
* Nine cats including two kittens are poisoned with anti-freeze on one Napier Street.
* Police launch a hunt for the "psychopaths" involved in attacking on a herd of cattle near Gisborne with knives and an axe. Police have charged a 22 year old man with theft and the wilful ill-treatment of an animal.
* Two children aged under 10, with their parents, drop off two tiny kittens with horrific injuries at the Wellington Cats Protection League. The kittens' paws have been severed off, with either a pair of scissors or a knife.
June 2009
* The hunt is on for a Tauranga couple who dumped their badly injured cat at a local vet, which had been kicked in the torso, causing serious injuries.
July 2009
* A Canterbury University Student is issued with a written warning from the SPCA, after he froze a rat to death for an arts project.
* Rotorua woman Hinengaro Enoka is fined $1180 for leaving her dog tied up for so long, the chain grew into its neck.
August 2009
* A Blenheim man is charged with cruelty to an animal after he allegedly lifted a Labrador puppy over his head and threw it to the ground.
* Three men are arrested for a barbaric attack on 32 birds at the Temuka Domain aviary.
* An 11 year old dog is shot dead near an intersection in the Northland town of Kerikeri.
* A Hamilton burglar tortures a family cat so badly it has to be euthanised.
* A cat is discovered dead on the side of the road in Kerikeri after it was tied to a car and dragged by the neck until it died.
* A Wellington couple are banned from owning pets after their cat was discovered emaciated, covered in faeces and with maggots growing in its flesh.
* Nelson woman Felicity Kate O'Brien is fined $200 after throwing her kitten at her boyfriend's car and breaking its leg.
* Otago man, Craig Allan Mann, who kicked his puppy so hard he broke its leg, is sentenced to 150 hours community service and ordered to pay $900 in costs.
September 2009
* SPCA officers in Christchurch find a dead tabby with a number of nails in it's head at a Hoon Hay address. At least fourteen, 85 millimetre nails were used on its body.
- with NZPA