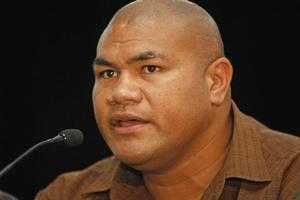 Heavyweight boxer David Tua says life has to go on after revealing that an aunt died in the tsunami that hit Samoa today.
Former Manu Samoa rugby captain Peter Fatialofa has also lost family, it was reported this afternoon.
Tua, who was born in Apia, is preparing to fight Shane Cameron in a heavyweight bout in Hamilton on Saturday night.
He said he did not know the exact circumstances around the death of his aunt, whom he referred to as Mrs Carr and who had hotel-style accommodation in Samoa.
"It's a sad thing that can happen to anyone," he said.
"For me, I think it will make me stronger. The reality is that these things happen, but I think we need to be strong for the living."
Tua said he would dedicate the fight against Cameron to his aunt and to others who had died in the tsunami, which followed an earthquake that measured 8.3 on the Richter scale.
Cameron, who attended a pre-bout media conference in Auckland with Tua this afternoon, passed on his condolences.
"I'm sorry to hear about your family," he said.
"It's not a nice thing to happen to anyone's family."
The bout has also been affected by the death of entertainer Sir Howard Morrison, who was to have sung the national anthem on fight night.
Sir Howard's son, Howard Morrison Jnr, will now do the honours.
Both Tua and Cameron offered their condolences over Sir Howard's death last Thursday.
Fatialofa, who lives in Auckland, has also lost family in the devastation of the tsunami, the stuff website reported this afternoon. It is understood the family member is from wife Anne's side of the family.
He and Anne were aboard an Air New Zealand plane that flew out from Auckland this afternoon bound for Apia.
Fatialofa was captain of the Manu Samoa team that played its first rugby international against the All Blacks in 1993 and has had an involvement with the team as a coach for many years, before being bypassed for the head coach job late last year.
Air New Zealand replaced its normal 152 seat A320 with a larger 304 seat Boeing 777 specifically to accommodate family wanting to fly back to join family. There are 85,000 Samoans in Auckland.
- NZPA