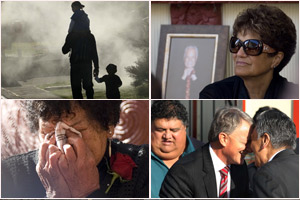 Sir Howard Morrison has been laid to rest after a 2-1/2 funeral service and a procession through Rotorua.
In keeping with his family's wishes the funeral was a celebration of the entertainer's life.
Members of Ngati Whakaue, Sir Howard's hapu of Te Arawa, created a festival-like atmosphere, singing in welcome as thousands moved on to Ohinemutu's Te Papa-i-Ouru marae where the service was held.
At the conclusion of the service Sir Howard's casket was carried to St Faith's where family members and close friends joined in prayer for him.
His sisters Judy Tapsell, Rene Mitchell and Linda Morrison sang one of his favourite numbers, Shenandoah, before he was taken to a hearse for a final drive through city streets lined with those who had come to say their own farewells.
The road leading the several kilometres to the Kaue cemetery at nearby Ngongotaha was also packed with wellwishers.
Sir Howard, 74, who had a history of heart problems, died at his Ohinemutu home on the shore of Lake Rotorua last Thursday.
He has been buried beside his parents and other close whanau.
Earlier a lot of people shared Sir Howard Morrison's life, because that was the way he wanted it, mourners at his funeral were told.
On a day which dawned misty but was fine by 9am, an estimated 5000 people gathered for the service.
Sir Howard's daughter Donna Mariana Grant gave the eulogy, describing her father as challenging and charismatic.
"What a proud moment to say 'my Dad'."
She went on to say: "We as a family have been basking in your warmth of generosity." She said a lot of people shared her father's life because that was the way he wanted it.
"He would want today to be televised to Aotearoa because the nation loves him – and we love you for loving him."
She said she had heard much of her father's charitable work, something he did because he wanted to help produce outstanding young people from Aotearoa.
Mrs Grant asked that governments make sure his 'Fight For The Future' project, aimed at improving health for Maori and Polynesian people throughout the south Pacific, continues.
Hero in show business
Tom Poata gave a sermon describing Sir Howard as a hero in show business.
"He struck down the boundaries between Maori party singers and professional entertainers.
"He showed Maori were capable of singing any style of music we choose."
He said the love that had been shown for Sir Howard and his family should be carried on: "Sir Howard your life is done, thank you for sharing the stage with us."
Te Arawa kaumatua Pihopa Kingi also addressed mourners and said Sir Howard's life has been celebrated and his story has been told over and over again over the last four days.
"Te Arawa has never seen a gathering like this before and been host to so many distinguished people, and you here today will showing by your very presence, your condolences and your sympathy for Lady Kuia and family," he said.
The iconic Sir Howard Morrison hymn Whakaaria Mai was sung with great fervour as the whanau of Sir Howard looked on from the front of the marae.
Thousands attend funeral
Members of Sir Howard Morrison's tribe Te Arawa performed waiata and haka as mourners took their seats.
Dignitaries included kaumatua from tribes throughout the country and musicians Dame Malvina Major and John Rowles, as well as politicians.
Sir Howard's nephew, actor Temuera Morrison, said just prior to the service that it had been a heavy few days but he was looking forward to listening to his family give their tributes, particularly Sir Howard's wife Kuia.
"I feel for her today," he told Maori Television. "She's been so strong."
Temuera Morrison said it was appropriate the sun had come out after nearly constant rain during the five-day tangi.
"He was a man that brought a smile and a bit of sunshine to everybody's life so it's appropriate that the sun is shining today."
Sir Howard's daughter Donna Grant thanked the thousands of people who had come to Te Papaiouru marae since last Friday to share the entertainer's life.
Mrs Grant said her father was a challenging but charitable man with an inimitable style and broad appeal.
"You had Tame Iti sitting next to the police and people who haven't known dad at all but were compelled to drive here and enter into one of our sacred protocols on the marae, the tangihanga, and be comfortable to be enveloped by our kindness and our warmth," said Mrs Grant.
"He was a bicultural example of what NZ and what nationhood was all about."
Mrs Grant said her father would be buried so that he could be with her mother when she died.
"As inimitable as he is he will be by himself so he can set the tone for how things go in the future."
Morrison whanau member Buffy Anaru said mourners had come from the
bottom of the South Island to the top of the North Island.
She said many pakeha had turned up to pay their last respects to Sir Howard.
"There was a couple from Tauranga. They couldn't bear not to come
over. They felt they didn't know whether it was right, the protocol,
to know that they could," Mrs Anaru said.
She said the couple were taken into the meeting house Tamatekapua,by family members to say good bye.
"It made their day," Mrs Anaru said.
She said many said that it was a beautiful experience.
"Just to see him one more time, that's what she said," Mrs Anaru said.
She said the tangi has brought both cultures together and for some
pakeha it has been their first time on a marae.
"Look at all his concerts, the majority were pakeha, elderly. They had
a lot of respect for him," Mrs Anaru said.
"He was such a humble person who touched a lot of people's hearts," she said.
- with NZPA