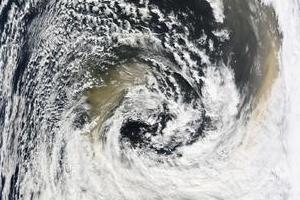 Dust from Australia's dust storm has reached parts of New Zealand.
MetService forecaster Chris Noble said weather observers stationed at Auckland International Airport noticed dust on the ground this morning.
He said weather forecasters noticed the dust in satellite images as it came in behind the front that brought bad weather to most of the country.
Mr Noble said there have also been reports of the dust landing in Taranaki.
"It is Australian dust and hopefully they don't want it back," Mr Noble said.
He said reports from Australia suggest the Sydney dust storm was a once in a 70 year event and so for the dust to reach New Zealand is even rarer.
Mr Noble said it is not unusual for smoke particles to cross the Tasman because they are finer particles.
Jonathan Taylor works for Watercare services and monitors atmospheric pollutants.
He said the red dust has turned up in their monitoring equipment stationed near Auckland Airport.
The equipment, known as a beta attenuation monitor, uses a filter which is changed every 12 hours so changes in atmospheric pollution can be seen.
Mr Taylor said the filter that was in the machine from midnight until this morning clearly shows the existence of red dust in the air.
Andrew Hope and his flatmates live in the Auckland suburb of Ellerslie and woke to find red dust on their cars this morning.
We thought the roof had rusted out on mine at first - its a white car so showed up very clearly. Then we realised that both cars had orange on them and figured something was up," Mr Hope said.
The dust crossed the Tasman Sea behind a weather front that brought torrential rain around Auckland and snow in the lower North Island yesterday.
The extreme cold hit Manawatu, with snow falling in Dannevirke, Woodville and Norsewood. The region also had heavy rain and temperatures down to 3 degrees Celsius.
But further north, tropical conditions brought isolated thunderstorms, torrential rain and temperatures in the late teens.
Thunderstorms and rain are expected across the North Island again today, said MetService spokesman Bob McDavitt.
Met Service forecasters expect the rain to clear by Sunday.
- NZHERALD STAFF