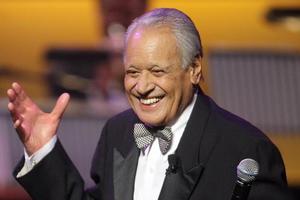 Actor Temuera Morrison has praised his uncle Sir Howard Morrison as a giant of the entertainment world.
Sir Howard died suddenly in Rotorua this morning, aged 74.
Temuera Morrison was today at Sir Howard's home at Ohinemutu on the shores of Lake Rotorua comforting his family.
"He was a big totara tree in the world of entertainment," Temuera Morrison told NZPA.
"Despite all his successes he was very close to his family. I am just feeling for them. I am here for Aunty Kuia (Sir Howard's widow), Donna, Richard and Howard junior."
Sir Howard's health had been "up and down" for quite some time, he said.
"But more recently he had been more up, so it's still a great shock for us all."
Family spokesman Monty Morrison will be releasing a statement at Tamatekapua Marae, Ohinemutu, this afternoon which will cover arrangements for Sir Howard's tangi and funeral.
Sir Howard lived virtually next door to that marae, the premier marae of Te Arawa, and his knighthood was conferred on him there by Governor-General Sir Paul Reeves in 1990.
Sir Howard's family confirmed the singer's death to the Herald this morning, saying he had become ill while visiting Rarotonga last week.
His condition had not improved since his return a few days ago.
The Herald understands that Sir Howard's son and daughter had taken a group to the Cook Islands on an educational tour.
Click here for great Sir Howard Morrison video moments
Prime Minister John Key was among those today paying tribute to Sir Howard.
"Sir Howard was a New Zealand success story. From humble beginnings he became an international success, first with the Howard Morrison Quartet, and then in an illustrious solo career," Mr Key said.
"But more than that, Sir Howard was one of New Zealand's best loved entertainers, his appeal spanning every age group.
Showbiz family
Of mixed Te Arawa and Irish ancestry, Sir Howard was born in 1935 into a Rotorua family renowned for its entertainment skills.
His mother was Kahu Morrison (nee Gertrude Harete Davidson), who cut her own record and was a cornerstone of Maori culture and entertainment both nationally and internationally.
His son Howard Junior and daughter Donna are entertainers in their own right. Acclaimed actor Temuera Morrison is a nephew, while rising singing star Elizabeth Marvelly is a niece.
Sir Howard grew up in Rotorua and in Ruatahuna - near Waikaremoana - where his father Temuera Morrison, a Maori All Black, was working for the Maori Affairs Department.
Sir Howard attended a "native school" in the Urewera before going on to Te Aute College in Hastings and Rotorua Boys High School.
He left without School Certificate and worked as a storeman in the Hawkes Bay and at the Whakatu freezing works. They were the first among several jobs including survey chainman and electricity meter reader.
Sir Howard married Rangiwhata Ann Manahi in 1957. They had two sons and a daughter.
Clive Trio to Howard Morrison Quartet
In1954 he teamed up with Isobel and Virginia Whatarau, who were known as the Clive Sisters – forming the Clive Trio. The group performed spirituals, Latin American and Neapolitan numbers, and Mario Lanza-style show songs.
But it was with another group formed with Noel King, Wi Wharekura and Gerry Merito, who died earlier this year, that Morrison enjoyed his first storming success.
In 1958 the Howard Morrison Quartet's debut record Battle of Waikato/My Old Man's an All Black sold a massive 78,000 copies.
The part-time quartet became full-time professional entertainers two years later and made an early live television performance in 1961.
A royal command performance, national tours, Australian tours all followed before the quartet disbanded in 1964 and Morrison began making his way as a solo entertainer.
In 1966 he had a lead role in the film Don't Let It Get You, becoming a star of all performing media - stage, screen and television.
With tunes of wide appeal, such as How Great Thou Art, he went on to become known as New Zealand's Mr Showbusiness and also embarked on many Southeast Asian tours.
And if he was not already a household name and face, a more diminutive art form would keep him in the public eye. As he once remarked: "Thank God for the Bic ads."
As another sideline, Howard Morrison became involved in tourism promotion from the early 70s. Eventually, he became an official "tourism ambassador" for the Cook Islands.
OBE and sell-out tours
Among his many plaudits, Howard Morrison was HMV Entertainer of the Year in 1986, Entertainer of the Decade in 1989, Feltex Entertainer Award (by public vote) in 1983 and featured in a This is Your Life television programme in 1989.
A 40th anniversary tour in 1995 was a sell-out. Ten shows were expanded to 14 because of demand, but its grand finale concert in Rotorua was cancelled when Sir Howard admitted himself to hospital, exhausted.
He had had a heart bypass operation several years before.
In 2007, he was presented with Creative New Zealand's premier award for Maori artists - Te Tohu Tiketike a Te Waka Toi - who had demonstrated a lifetime commitment to their art and were leaders in their field.
At a concert last year celebrating 50 years in show business he was joined by Dame Malvina Major, John Rowles and Tiki Taane.
This year Sir Howard told his hometown newspaper, The Daily Post, how "stoked" and "chuffed" he was to discover that a DVD of his life was outselling the megastar, Michael Jackson, whose material was selling in huge numbers after his death.
Once in a Lifetime was only released on August 20 and was rated third in its first and second weeks on sale. By mid-September it was at No 1.
Sir Howard said he was "chuffed", especially to find it ahead of Michael Jackson's two DVDs.
"It's just sensational. I'm absolutely stoked. I haven't had this happen since How Great Thou Art shot up the charts in 1981, '82 ... " he said. "I'm so proud but very humbled by this. It's something for the little boy from Ohinemutu."
Sir Howard also had a brief flirt with politics when he was offered $1 million by billionaire expat Owen Glenn to stand as an independent MP at the last election. Sir Howard turned him down.
"He offered me a million dollars to stand as a member of Parliament but I turned it down. I felt the entertainment business was enough for me," Sir Howard told media.
Sir Howard was involved in youth-at-risk programmes, establishing the Sir Howard Morrison Education Foundation for Te Arawa rangatahi (youth) entering university study, and was a trustee of the Books in Homes initiative as well as patron of Victim Support New Zealand.
He was also a founder and trustee of the PTE Manaakitanga Aotearoa Trust, based in Rotorua, and Tu Tangata business studies programme and was awarded an honorary doctorate by Waikato University.
News of Sir Howard's death spread quickly this morning.
Tributes are pouring into to our Your Views and the nzherald story announcing his death travelled quickly through social networking site Twitter accompanied by expressions of sadness.
- With NZHERALD STAFF and NZPA