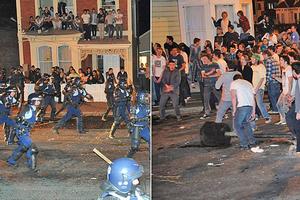 Dunedin's Mayor says he's powerless to stop the annual Undie 500 university event, despite it erupting into more violence and arrests this weekend.
More than 20 people were arrested after fires were lit and riot police were pelted with bottles, bricks and bicycle parts around the Castle St area on Friday night. One police officer was knocked down by a flying bottle while other people were taken to hospital with injuries.
Seventy officers took about two hours to disperse the students, using riot gear.
The annual Undie 500 event, organised by Canterbury University engineering students, involves a pub crawl from Christchurch to Dunedin, in cars worth less than $500. This is the third consecutive year the rally has led to disorder.
While peace returned to streets yesterday, recriminations were flying between Canterbury and Otago over who was to blame.
Dunedin Mayor Peter Chin said it was the Christchurch students' fault - and that they should stuff up their own city - but police said most of those arrested were from Otago.
University of Canterbury Vice-Chancellor Rod Carr said no Canterbury students were among those arrested and he urged them to stay out of trouble last night.
Carr warned that anyone identified by the police as being involved in illegal behaviour would face consequences, which could include exclusion from the university.
"First and foremost we expect our students to follow the laws of the land, and we support the police in taking action against any student involved in criminal behaviour."
Inspector Andrew Burns said police were disappointed that the situation turned into a confrontation.
"When events like this happen you see alcohol-fuelled incidents happening," he said. "It's about taking personal responsibility for their drinking."
Chin acknowledged there had been trouble with Undie 500 revellers in the past. "The message has been for the last two years that we don't want it to take place."
But he said he was powerless to stop it. "It's Canterbury students who come here on a drunken pub crawl - I can't stop anyone from driving from Christchurch."
He was angry with the students' behaviour, saying part of the problem was society's attitude towards alcohol.
Dunedin North MP Pete Hodgson said it was time to put an end to the event.
University of Canterbury Engineering Society president Carl Shrimpton said it was not the Canterbury students who were the problem, but Otago students and other hangers-on.
"A lot of people from Otago are the ones being arrested. I think there's some ongoing issues in Dunedin that Peter Chin and the university need to address."
He said organisers had put measures in place to curb anti-social behaviour. These included placing a bond on each vehicle, which was forfeited if its occupants were found to be antisocial.
Shrimpton said if the event was not sanctioned by the university. People took part regardless, as they did last year.
"It's disappointing to see the antisocial behaviour has occurred once again."
Otago University Students Association president Edwin Barlow said not all those involved were Otago students.
He said alcohol played a part, but "anyone who gets a kick out of throwing a bottle at another human being needs some serious help".
He said there were problems with student mobs around the Castle St area, but put the onus on the Dunedin City Council to provide alternatives to drunken street revelry.
Although he would not give any examples of possible alternatives, he said "all attempts are blocked by the DCC".
Eli Toeke, who lives in a flat near the scene of the rioting, said he was confronted with the aftermath on his way to work yesterday.
"I started work at six this morning and had to walk through the whole mess. The partying was well and truly over, but there were still a few couches on fire."
Last year's official Undie 500 was cancelled after rioting in the city resulted in 69 arrests the previous year. However, an unofficial version still ran and 30 arrests were made after another round of disorder.
- ADDITIONAL REPORTING: NZPA