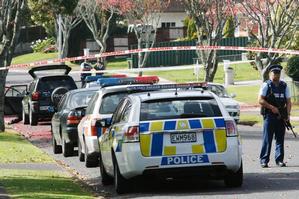 Armed police guard the scene in Leith Court in Papatoetoe after an Asian male was found stabbed in a car this morning. Photo / Greg Bowker
Police in south Auckland say they are not looking for anyone else in connection with a brawl that left a man dead.
A Cambodian man in his 30s was stabbed to death during a fight between two rival groups in Papatoetoe today.
Police have arrested a number of people and are talking to them.
Police spokeswoman Ana-Marie Gates-Bowey said the man, aged in his
thirties, was found hanging out of a car door.
She said the fight happened on a suburban street called Leith Court.
Ms Gates-Bowey said police were called to the fight that involved two
groups of men. She said the fight is not believed to be gang related.
She said police have cordoned off the area.
A St John Ambulance spokeswoman said a second person had been transported to hospital with serious injuries.
A post-mortem examination is expected to be carried out tomorrow.