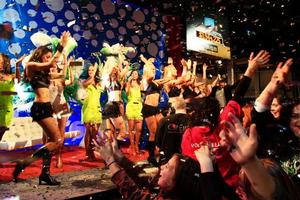 Donations to New Zealand's first telethon in 16 years have topped the $2 million target that the KidsCan charity said would be enough to feed its waiting list of hungry children.
KidsCan manager Julie Helson said yesterday that the Sunday night total of $1,944,225 raised in the 23-hour TV3 telethon that ended at 6pm on Sunday passed $2 million yesterday, and could go several hundred thousand dollars higher when all donations are in.
On top of that Prime Minister John Key announced that the Ministries of Health and Social Development would chip in $320,000 to feed 7500 children.
The trust already provides muesli bars and fruit pottles to feed 8500 children who come to school hungry each week and has about 10,000 waiting for food. It had 32,000 children at 158 schools on its waiting list last week for either food, raincoats or shoes.
Ms Helson said more schools had approached the charity because of the telethon, so the list was growing.
TV3 said 2,083,100 people, or 52.5 per cent of the population aged 5 or over, tuned into the telethon at the weekend.
TV3's total viewing audience was up 24 per cent from the average of the previous four weeks between 8pm and 9pm on Saturday, up 58 per cent between midday and 1pm on Sunday and up 108 per cent between 5pm and 6pm on Sunday.
Ms Helson rejected criticism by Wanganui mayor Michael Laws that the charity was "creating dependency" by offering free food to families that could afford to feed their own children.
She said the 100 schools that received food were now asking for less food each term because having the food allowed them to monitor children who needed it repeatedly.
"Their social workers can go to those families and find out what their issues are and help them work through that," she said.