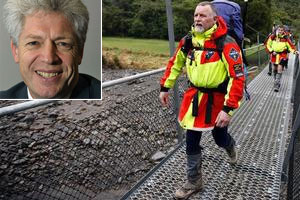 Missing trampers, Te Papa chief executive Seddon Bennington and Marcella Jackson, have been confirmed dead.
Arts, Culture and Heritage Minister Christopher Finlayson released a statement this afternoon as a police press conference was beginning in Levin.
Mr Finlayson said Mr Bennington brought international experience and leadership to his role at Te Papa.
"He was well respected and will be sorely missed," Mr Finlayson said.
The search for Mr Bennington and Mrs Jackson was called off today.
TV3 reported Mrs Jackson and Dr Bennington had been found but their condition was not known.
A police spokesperson said developments in the search would be revealed in the 2pm press conference.
Mrs Jackson, 54, also from the Wellington area, was a long-standing family friend of 61-year-old Dr Bennington, police spokeswoman Kim Perks said.
Concern has been growing for the two, who went into the ranges on Saturday and were last seen that afternoon by other trampers on the track above Field Hut.
Those close to Dr Bennington and Mrs Jackson were being kept updated and supported.
At this stage while they were awaiting news, they did not wish to speak publicly, Ms Perks said.
Dr Bennington had tramped in the area before, and as far as police knew the pair were adequately equipped.
But they say snow is waist-deep in some parts of the ranges, making searching difficult.
Fourteen police and civilian searchers had been combing the dense bush in rough weather, with some spending the night in the ranges.
An Air Force Iroquois helicopter was due to be flying another four teams into the area today.
The weather this morning "was not great", but a few fine breaks were forecast during the day, Ms Perks said.
All three huts along the track above Field Hut had been checked, but there was no sign of the pair.
Metservice forecaster Jared Barrow said the high winds, heavy rain and snow that were slowing the search yesterday were likely to continue today.
An improvement in the weather was possible this evening "if things are lucky - the wind dies away, the southerlies die away and hopefully all the precipitation moves out to the east.
"But during the overnight period until the afternoon or evening, it's still going to be problematic weatherwise."
Paul Brewer, a former marketing and communications director at Te Papa, said Dr Bennington was an accomplished tramper, and went tramping often.
"He loves tramping and does it regularly, and yes I would say he is an experienced tramper," Mr Brewer said.
Dr Bennington joined Te Papa in January 2003 from the Carnegie Science Centre in Pittsburgh, United States, where he had been director since 1994.
He has a zoology PhD from the University of Canterbury and has also done university study in art history, anthropology, New Zealand history, and Maori studies.
He spent a year working with Volunteer Service Abroad in Western Samoa in 1966.
- ADDITIONAL REPORTING: NZPA, NZ HERALD STAFF