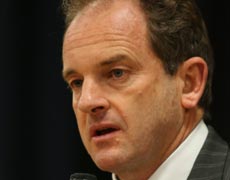 Labour's Mt Albert candidate David Shearer appears to have all but booked his seat in Parliament as the June 13 by-election campaign enters its closing stages.
A TV3 poll tonight put Mr Shearer on 61.7 per cent support with National's Melissa Lee backed by only 20.6 per cent cent of the central Auckland electorate ahead of Saturday's by-election.
Green co-leader Russel Norman was well back in third place on 13 per cent, while ACT's John Boscawen barely registered on 3.6 per cent.
At the beginning of this week a TV One poll put Mr Shearer on 59 per cent, Ms Lee 21 per cent, Dr Norman 15 per cent and Mr Boscawen 3 per cent.
Mr Shearer, a former adviser to Labour leader Phil Goff, said he was getting a good reception on the ground.
"But there is a real danger of complacency. We will continue campaigning hard and work to get our vote out on Saturday."
Ms Lee told supporters at a meeting last night that she was still fighting hard to represent Mt Albert, but it appears a series of gaffes at the beginning of the campaign and decisions over a motorway through the electorate killed off what hope she had.
National leader John Key said early in the campaign it was always a long shot for the party to take the safe Labour seat held by former prime minister Helen Clark.
However, there had been hopes that the end of Miss Clark's reign, the close proximity to the last election and National's strong support nationwide might give it a chance of pulling off a spectacular by-election upset.
But Ms Lee's campaign went off the rails in the opening weeks with a number of verbal blunders.
In one, Ms Lee caused offence by suggesting a new motorway extension between Waterview and Mt Roskill could stop criminals coming from South Auckland and committing crime in Mt Albert.
She also struggled under the pressure of debates and media scrutiny, virtually conceding defeat at one point, saying she hoped to come second.
Since then her campaign has become more tightly controlled, but barring a remarkable turnaround, the changes appear to have come too late.
Today all the candidates continued to hit the streets. At one point at in Kingsland shopping strip, there were MPs for Labour, the Greens and ACT trying to persuade potential voters to back their candidates.
Labour leader Phil Goff's greatest concern is that apathy and tactical voting could hurt his candidate.
"By-elections can be quirky. There is a always a danger of a low turnout and the weather is looking pretty murky. These factors combined with complacency and apathy means no result can ever be taken for granted," Mr Goff said.
Besides Labour voters not bothering to vote, there was also a fear some might decide to send a message to Wellington about their environmental concerns and vote for Dr Norman.
Another danger was some Labour voters might like the idea of pushing Ms Lee into third place and giving their vote to Dr Norman to achieve that.
Dr Norman is still campaigning hard for Labour voters to back him and send a message to Wellington, but if the polls are correct it is not an argument that appears to be resonating in Mt Albert.
Labour and Mr Goff need a strong victory to boost morale as the party and him struggle to regain nationwide electoral appeal.
- NZPA