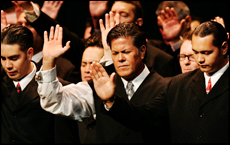 God looked down on the ordination of Bishop Brian Tamaki in Manukau yesterday afternoon and lo, he was much pleased.
Or so thought the 3000 Destiny Church faithful who paid up to $70 a ticket for a seat at the TelstraClear Pacific Events Centre, only to be reminded again that moral crusades can't be waged on the cheap.
"We don't come to the house of the Lord empty-handed," prompted Destiny political party leader Richard Lewis, as he began the ceremony. "There's Eftpos available out front."
It was the seventh birthday of Destiny Church, and Brian Tamaki was being bumped up from pastor to bishop - the first bishop of a pentecostal church in New Zealand.
A Saturday it may have been, but the predominantly Maori flock was dressed in its Sunday best: women in sedate church hats, men in gaudily-coloured three-quarter length suits and snakeskin shoes.
They were encouraged to celebrate with cash. If, after the entry price and collection baskets, the followers still felt flush, they could empty their wallets at the merchandise table. There were Destiny umbrellas, pens, T-shirts - even signed posters of the holy man himself in full warrior mode: tunic-clad and clasping a broadsword.
The martial image of the Destiny leader was not an isolated one - the troops were being marshalled for an election campaign.
A biblically inspired haka laid down a challenge to the congregation. The message was even more direct in the hymn that followed: "The Lord is mighty in battle."
When the bishop-to-be took the stage, it was to a trumpet anthem equal parts Theme from Rocky and Darth Vader's Imperial Death March.
In a flashback showreel of family photos and videos, early Brian articulated his plan of attack: "The church must recover again its attitude of militance."
After all the hype it was anti-climactic when Pastor Tamaki took to his feet, dressed in a modest sleeveless black jacket and white shirt, to be anointed with oil by Destiny kaumatua Manuel Renata. Holding his new bishop's staff and wrapped in a cloak of native birdfeathers, the Lord's willing servant looked more like a shepherd than a soldier.
But the rhetoric resumed with the new bishop's sermon.
"Evil belief systems" dominated the community, but as it said in the Bible, "The writing's on the wall".
In a quiet moment after the ordination, we asked the bishop: is it really a war?
"Oh yeah. New Zealand is ready."
Ready to wage war on "secular humanism, liberalism, relativism, pluralism". On "a Government gone evil". On the "modern-day witchcraft" of the media. On the "radical homosexual agenda".
The nation is in crisis, but Tamaki offers a solution. And he's bringing it to a town near you, when the Bishop Tamaki national tour begins in Tokoroa on Tuesday. Just remember not to come empty handed.
- HERALD ON SUNDAY

By Patrick Crewdson