Acclaimed North African band Tinariwen are bringing their desert rock to NZ. Former manager Andy Morgan tells their story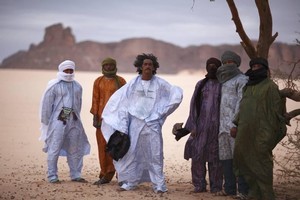 They must wonder who we are," mutters Elaga Ag Hamid, Tinariwen's rhythm guitarist, as he ambles through New York's Meatpacking district in full Tuareg regalia en route to a photo-shoot. The other four members of the band saunter with him, similarly dressed, past locals who hide their bafflement behind shades and surreptitious glances. "Maybe Bin Laden," Elaga suggests. "Or the Mafia!" His head and body are almost completely invisible beneath flowing purple robes and a tightly wrapped turban, but his exposed eyes betray the gleam of a mischievous smile.
Behind him, Abdallah "Catastrophe" Ag Alhousseyni, Tinariwen's guitarist-vocalist, is cursing both the steamy heat and the promo duties that inevitably hog one of Africa's best-known bands. I sympathise with Abdallah's impatience, even though, as a journalist I'm part of the problem - having managed Tinariwen for seven years before giving up showbiz to write full-time, I understand their homesickness. After all, this sky-defying city is deficient in everything that makes Tinariwen's desert home so magical: space, time, unfettered nature and endless horizontal horizons.
Led by 50-year-old Ibrahim Ag Alhabib, Tinariwen strode proudly and innocently on to the world stage a decade ago.
Their stark style of Tuareg desert rock, with its bony, whiplash guitar, its rolling, loping momentum, skeletal handclaps and cracked sandpaper vocals, its dusty-foot poetry and lyrical explorations of awareness, longing and revolt have metaphorically conquered the world. Their A-list fan club continues to grow exponentially: Bono, Robert Plant, Thom Yorke, Carlos Santana.
All the current members of Tinariwen were born in nomad camps in the far northeast of Mali. Though they still live there and in Algeria with their families when they aren't touring, their nomadic beat is no longer the silent plains, black basaltic hills and sandy, waterless riverbeds of the southern Sahara.
Touring the world is every musician's dream, and Tinariwen are no different. But I get the impression that they tolerate their groundhog-day existence on the road because it helps raise awareness about their fragile culture and troubled homeland and earns them money to support family and friends back home.
"When I was young, I used to look at a map of the world and dream of all the places in the world I wanted to see: Europe, America, Japan," says Ibrahim, "I wanted to see the world as a musician and now I'm doing it. So I'm happy."
When he was dreaming those youthful dreams in the 1980s, Ibrahim was a young, jobless, Tuareg migrant scratching a living in Algeria and Libya. His family had been hounded out of his homeland in northeastern Mali in the early 1960s. His father, a mason, was arrested in 1964 for aiding a Tuareg rebellion against the newly independent government of Mali and executed by firing squad.
Ibrahim carried the anger on his shoulders throughout his childhood and adolescence. In 1979, he picked up a guitar and adapted traditional Tuareg rhythms and melodies - mixing them with the pop sounds of North Africa and beyond; Santana, Jimi Hendrix, Bob Dylan and Dire Straits were seminal influences - to this alien instrument.
It was a style of desert rebel rock invented to express homesickness, brooding, rebellious anger, their feelings about their own stateless disenfranchised people.
Ibrahim and other members of the band fought in the great Tuareg rebellion of the early 1990s. "It was hard during the rebellion for me," he says. "But it healed me. I forgot everything, even the death of my father. It was like therapy."
A favourite way-station on the route to Libya and exile in the 1980s was the town of Djanet in south-eastern Algeria. That's why Ibrahim chose to record Tinariwen's latest album there. It's even called Tassili, after a nearby mountain range.
Last November, Ibrahim travelled to Djanet with five members of Tinariwen, determined to nail down the simple acoustic sound and poetry of ishumar adventurers sitting around a campfire, sharing cigarettes, stories, songs and a guitar. This had always been the context in which Tinariwen's music was heard before they picked up electric guitars, added bass and percussion and went global. It was a return to core values and desert tranquillity that is bottled to perfection on Tassili.
They were later joined by Kyp Malone and Tunde Adebimpe of New York art rockers TV on the Radio, who met Tinariwen in another desert - California's Coachella festival. One of Ibrahim's greatest pleasures is showing strangers around his homeland and he loved having TV on the Radio around for the recording. "Everything came naturally," he told me enthusiastically. "When I found a tune or a pattern on the guitar, Kyp would find something that went with it. Or if he found something, Eyadou just followed him. It was great. They became friends very quickly. We didn't even have to talk that much."
Not talking much is fine by Ibrahim. A few words go a long way in the limpid calm of his desert home.
Lowdown
Who: Tinariwen
What: Desert blues rockers from Mali
Playing: Wellington Town Hall, March 13, as part of the NZ International Arts Festival
Essential albums: Aman Iman (2007); Imidiwan (2009); Tassili (2011)
- Observer