Ewan McDonald completes a personal triathlon in the Far North.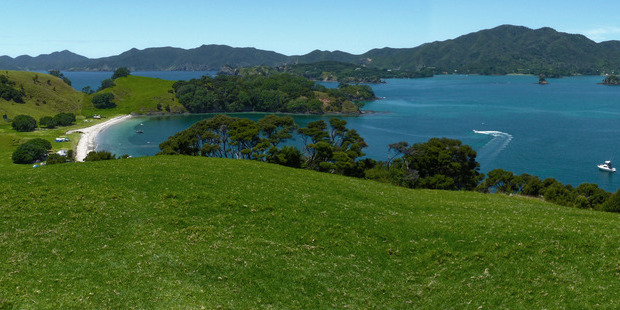 Friday afternoon: Carmelita and I just want out of Auckland. Who doesn't, at four on Friday?
I'd tossed a suitcase in the boot that morning, ticked off the office clock for running slowly, then tootled on to the bridge. And stopped.
Because that's what you do when you try to get out of Auckland on a Friday afternoon. Inch, ache, past the Northcote turnoff, the Esmonde exit, the seductions of Wairau Park. Until you get to the Northern Gateway. It slammed shut at Warkworth. Roadworks. Then the rain came. Noah's flood. We may have passed Waipu. Kamo. Kawakawa. Just one more downpour and 17 life-threatening bends before a relaxing dinner, warm bed and even more welcoming minibar in Paihia.
Saturday: Sun. It washes away last night and cleans the car and refreshes the gardens and bounces my walk through New Zealand's almost oldest town.
Carmelita will stay in Paihia. The town has shopping. The hotel has a spa.
The wharf has water taxis that scoot to Russell, where I meet Bruce, my guide, and we scamper past rum palaces to the outermost island of the bay. Of Islands, 144 of them and we will see most during the hike.
We are going to hike around Urupukapuka. Over, through, and across 15km (the trail is 11km but we added a couple of diversions).
As we dock at the DOC campsite, take the first right at the pukeko and head up the path, Bruce reminds me that American writer Zane Grey based himself at the beachfront cottages just over there early last century and designated the island as the world's gamefish capital.
Cook hove to here in 1769, when almost 3000 people lived on the island. He moored off what would be called Roberton Island, largest in the bay, 30 waka surrounded his Endeavour, an emphatic illustration of the bay's strategic and political importance. Those waka, and their successors, imperiously commanded the east coast, to Mayor Island off the Bay of Plenty.
Urupukapuka was the food basket for the region, supplying taro and kumara to the mainland. We walk past huge pits on our tramp around the coast, above the cliffs, up and down those ridges and saddles and 150-steps-plus DOC staircases that are part and hassle of our coast.
It's hot, perhaps a good idea that we're not taking the five-hour tour of the island's rich history of 66 significant archaeological sites, including eight well-defined pa.
However we see most of them in the three hours we spend walking the cliffs, the foreshore and the hide that allows visitors to spy on the native duck's breeding pond, a throwback to the flora and fauna of almost-but-not-quite Gondwanaland.
Signs have orange markers for tramping tracks, blue for "stand here and birds will come in five minutes".
But not today. Bruce is mildly grumpy; he can't understand why no fantail is leading us up the kumara path.
"We should see tui and maybe native duck," Bruce hopes, "because the island has been rat-free for 18 months. Don't understand why there's none around. Maybe they're nesting."
Sunday morning: The North has learned not to believe Wellington's promises. Like the railway that was gonna, gonna, gonna open the hinterland and bring jobs and money. It never did. Ray and Robyn Clarke have set up the first stage of a bike trail that will link the east and west coasts on its bones.
South of Kaikohe, Ray points me along the route that begins near the aerodrome built by the American Air Force during World War II. Few New Zealanders remember how these bases were built along our eastern coasts, US planes and aviators stationed here, against the Japanese threat.
Now the turbines launch gliders and private planes into the skies, disturbing the quiet of cattle and a city-slicker cyclist burning off last night's merlot.
A kilometre on, the only sounds are birds. And my tyres. A quail flashes across the track. Another flash, blue, a peacock on a paddock fence. And a fantail, two. They must nest earlier further north. Rolling farmland, chomping cows give way to a trailer factory. The light industrial zone of Kaikohe.
But only for a moment. Change gear. Climb through pine to native trees (marked with names, uses, bird preferences) and then... a railway tunnel. Pause. Enter. I know this line was abandoned 70 years ago but, in the dark, I'm worried something might be coming towards me. It is; the light of an oncoming trail.
Giant, graceful golden toitoi wave me on an exuberant run downhill to the not-quite-distant shores of Lake Omapere, the north's largest lake.
The present trail runs for 22km. Ray hopes to expand it west - through macadamia groves, DOC wetlands and on to the famous mission station at Horeke in the Hokianga, further than the railway ever went, except in the dreams of engineers; south and east to Waitangi.
There are issues here; iwi believe their land was confiscated to lay the railway and vow, "Not again".
A clash of 21st century Aotearoa: tangata whenua protecting their turangawaewae; middle-class liberals unstrapping their mountain bikes to pedal through backrails New Zealand.
Almost coming a cropper to the amusement of a grazing Hereford, 90 minutes after leaving Kaikohe, I negotiate the only tricky curves and climb of the trail and pedal into the old dairy village of Okaihau.
I chug on a Coke, wait for Ray to pick me up, catching my breath and reflecting on my achievement. I've had only one encounter with humans in 20km: just as I left the tunnel, two dads and four kids pedalling the other way. The youngest was about six, and her helmet matched her bike. Both were pink. So was my face.
Sunday afternoon: A few bends up the road from the nice bike people are the nice horse people.
"Have you ever ridden a horse?" asks Quinton Hita, who runs Lake Omapere Horses, a whanau operation offering farmland rides to visitors and school groups.
He matches the horses' temperaments against the riders' abilities, which suited me because I was always going to come out last and mildest.
The other cavaliers were a local farmer and his pony club daughter, and Quinton's wife Makareta. We headed down the sheep track towards the lake, across the next paddock, through reeds and across gullies. Soon I realised why I was enjoying this.
On horse trails the world over, you usually trundle along on some resigned old darling who couldn't raise a trot if her life depended on it. Here we were RIDING: Quinton wants us to trot, canter, up hills. Across ridges. Pick our own paths. Let the horse know who is in control.
We reach the shore of Lake Omapere. If you've got this far into the yarn Google the lake: it holds several special places in the official history of New Zealand, and way more interesting ones in the oral account.
While Makareta unpacks the kete and pours tea and butters takakau, the local bread, Quinton explains why that hill is important and so is this bay and that tree.
He has a knack for it: it comes from the soul, delivered by a man who has appeared in Shortland Street, produced Mt Zion, and rolls around this part of heaven all year recording kaumata stories for Maori TV.
And that tramping 15km around an offshore island, cycling 22km through the backwoods of our history, riding for two hours and eating local bread - is a Far North triathlon in a weekend.
I share a hongi with Quinton's mum, drive south to Whangarei, Wellsford, Balmoral.
In the carport I pat the car on the bonnet.
"Home," I tell Carmelita as her engine cools.
IF YOU GO
To tackle your own Far North triathlon contact Urupukapuka Guided Walks, Twin Coast Cycle Trail and Lake Omapere Horses.
Ewan McDonald's visit was organised by Bay of Islands Destination Marketing Group and accommodation was provided by Scenic Hotel Paihia.