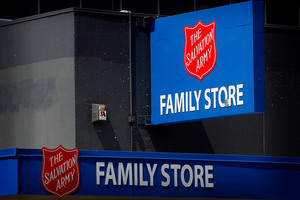 Have you got a couple of hours spare to lend a hand this Saturday?
It's the first ever Can or Coin Appeal, in support of the Salvation Army.
The collection is being organised by Barfoot & Thompson Whangarei, to help the charity after funding cuts.
The city has been divided into 12 regions, with volunteer groups allocated to each one to collect cans and coins.
I'll be joining around a dozen others from The Whangarei Report and Northern Advocate office, collecting around the Riverside area.
It's upsetting to see a charity that does so much good work around the community has had its funding cut. The Salvation Army is where people go when they've got nowhere else.
The Whangarei Salvation Army Community Ministries centre offers advice, advocacy, assistance with food, furniture and clothing.
Then there's the Bridge Programme for Addictions in the Whangarei area, accommodation and practical support for the homeless, and the Whangarei Corps, which runs various programmes for youth and children.
Demand for the Salvation Army's services is huge and has increased dramatically since the global recession hit.
An example is the ending of the Community Response Fund in July, which was introduced in 2008 to help social services cope with the demand brought on by the recession.
Whangarei Salvation Army community ministries director Pete Mullenger said the funding cut meant it could no longer carry out budgeting services in the city.
In 2007, Whangarei Salvation Army assisted 852 families but last year (2012) that more than doubled to 1724. Demand for its food banks increased 34.8 per cent in 2012. If we can collect 7000 cans, Major Cathy Elkington estimates that will provide the charity with six months' worth of food hampers.
If you would like to volunteer, contact Barfoot & Thompson Whangarei on 09 438 3079, or be sure to donate a can or coin if you see a collector.