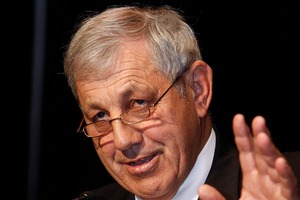 I'm feeling passionate. Passionate about heaps of stuff. Also I think it's really important to move forward. Go on a journey. But I'll lead from the front. Passionately.
If you've heard this before, you were probably at the Mayoral Forum last Tuesday which provided an unnerving amount of entertainment for one night in provincial New Zealand.
For kick-off, we had the "Is Elvis in the building?" moment when Mr Semenoff didn't show up on time and the MC had to ask the audience if anyone had seen him.
To those organising future events: give a time - reach the time - lock the doors. This allowed for him to make a bridal entry and then take out his cell phone while other candidates played by the rules. Which, of course, don't apply to those from the political twilight. I was humbled. I've insinuated Stan has been an unelected influence in the background of council chambers and never in fact left the building.
This is absolutely wrong and I apologise unequivocally. He was up front in being the unelected decision-maker on projects he credited himself with achieving during a time he was supposed to be nowhere near the place.
If this were a school report card, it would read: "Not a team player" and "has boundary issues". Note to whoever does become mayor: Change the locks. Seriously.
His plans were for four lanes of tarseal going somewhere (anywhere!) so we could all go nowhere faster. Sheryl Mai beat the drum for the rail link and is the only candidate to have the public backing of leaving councillor Aaron Edwards who, despite being the youngest member of council, is the only one to have a legacy strategy for getting youth involved in local politics and to advocate for a culture change in the council. Samu was also talking youth opportunity, which is more progressive than talking about youth crime.
There were other highlights: Vince Cocurullo's policy to stimulate the local economy by advocating all 300 council staff "go forth and shop" was fun as was Chrighton Christie elucidating on council debt with all the clarity of someone on any bar stool at 3am. Greg Martin getting quietly booed when asked: "What can be done to protect the environment?" He said: "We've planted trees, we're burning off waste gas, done sewerage, there's not a lot else we can do."
An interesting insight into the 1950s. Warwick Syers blamed pesky ratepayers for causing debt by wanting a functioning sewerage system.
If you like what this council has done then vote for him to keep doing it. Graham stood out, not just by being the best looking out of the men and women but also the best dressed. His platform (and by this I mean the speech and not the heels) is a relevant reminder that he knows what it is like to grow up on struggle street in OT and that for many of the citizens of the North this reality is never reflected in their political leadership. The warm reception afforded him made me proud to live in the 'Rei.
Stuart Bell, with his excellent plans for bikes, summed up the evening by putting his hands up and saying: "Whatever this council has done, hand on heart, I had nothing to do with it." Most candidates were saying the same, , which was surreal - if it's true they must surely be ineffective. Four of them are in council right now.