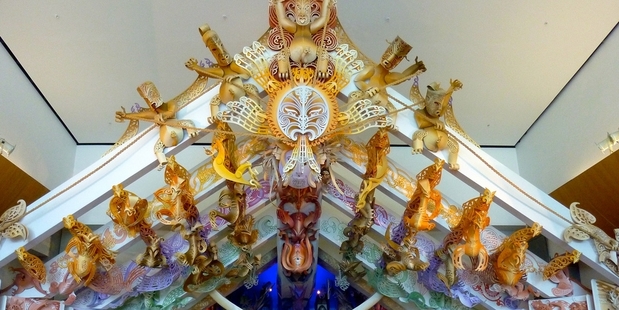 A Northland master artist is the subject of a new book launched at the National Library in Wellington earlier this month.
He Toi Nuku He Toi Rangi captures Cliff Whiting's huge contribution to contemporary Maori art. Originally from East Cape and of Te Whanau-a-Apanui descent but long based in Russell, Whiting's many awards include New Zealand's highest honour: the Order of New Zealand.
Since the death of Ralph Hotere, he is the only visual artist to hold the honour limited to 20 living New Zealanders.
Whiting started his career as an artist, educator and arts administrator in the 1950s. He worked with Hotere in the Education Department's innovative Northern Maori Project, in which artists toured Northland schools to engage young Maori in art and learning. He lent his expertise to many marae renovation projects where one of his hallmarks was involving local people and students.
In the 1990s, Whiting played a key role in the development of Te Papa, where he became the museum's first kaihautu [leader] and was the mastermind behind the creation of Rongomaraeroa Marae on level four.
Te Papa's current kaihautu, Arapata Hakiwai, said Rongomaraeroa was a place of belonging for all people. It was rich in colour and featured three-dimensional carvings made out of custom wood.
"It reflects the nation's bicultural foundations while embracing everyone. It's innovative in its story-telling and its design," Mr Hakiwai said. "He has extended the boundaries of Maori art by using contemporary materials and resources. Cliff has a gift for interpreting the past and transforming it into a meaningful and creative present that also speaks to our future."
Mr Hakiwai said the book gave new insight into the thinking of a master artist
In August, Whiting was one of five artists presented with the Art Foundation's Icon Award. Other recipients included Dame Kiri Te Kanawa, architect Ian Athfield, painter Jacqueline Fahey and film-maker Geoff Murphy.