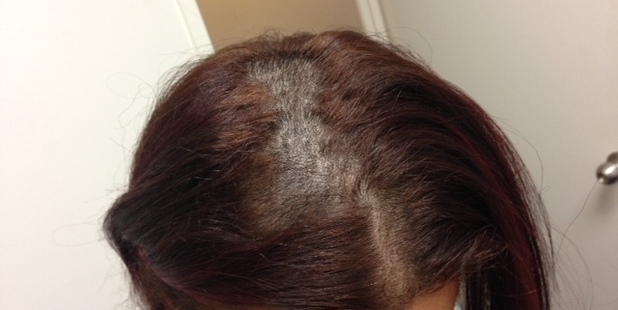 A Northland woman's hair began falling out and her scalp developed scabs after her hair was coloured and straightened at a home salon.
That has prompted warnings for customers to check the qualifications of home salon operators.
The woman, who asked to remain anonymous, said some of the hair on the top of her head fell out after the cut, colour and chemical straightening treatment.
She was left with scabs on her head and bald patches, and felt "really sick" afterwards, she said.
She had opted for the colour and straightening treatments at the same time on the advice of the hairdresser. "We go to home hairdressers all the time. You trust them, you trust the professionals on what they say," she said.
The hairdresser, whom APNZ has chosen not to name, said the customer had insisted on getting both treatments in one go, and had an adverse reaction to the chemicals.
"My gut feeling was not to do all the procedures that she wanted done on one day, so I rang my rep, who said it would be fine to do, and obviously she's reacted to the procedure." She said she had almost 30 years' experience. The incident was a "human mistake" and she had given the woman a full refund.
The New Zealand Association of Registered Hairdressers said it was "not standard practice" for chemical straightening and colouring to be carried out at the same appointment.
Vice-chairwoman Yvonne Bowater said she had been taught to separate the two chemical procedures by a week. "It's actually quite stressful on the hair, and the hair needs time to actually come back from that," she said.
Erica Cumming, chief executive of the Hairdressing Industry Training Organisation, said it was unusual, but some complementary products could be used together. Hairdressers should check the product's instructions, as well as the health of the client's scalp and hair.
Ms Cumming said visiting home salons was fine, as long as customers checked hairdressers were registered and qualified. "It is just really important for consumers to look at if they are registered, and check if the hairdresser is qualified."
Association of Registered Hairdressers chairwoman Lynnette Karam-Whalley urged consumers to be cautious and visit only hairdressers registered with the association.
The hairdresser involved said she was registered with the Whangarei District Council.
- APNZ