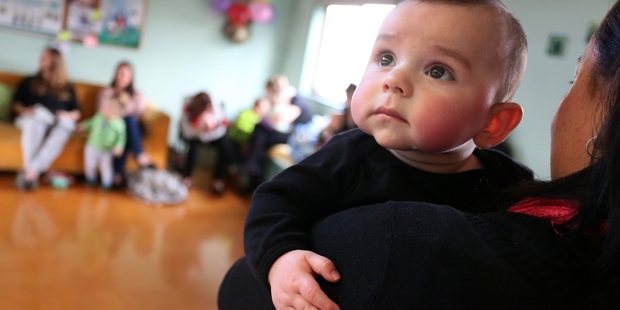 Whangarei mum Charlene Morunga breastfeeds her 5-month-old son to help give him the best start in life.
"It's knowing that he's getting the right stuff and that his needs are met via the breast milk," Ms Morunga said.
She and her son Marcus Nash joined over 20 other Whangarei breastfeeding mothers and babies at Te Puawai Ora for this year's Big Latch On event on Friday.
The event, which originated in New Zealand ten years ago and has subsequently taken off globally, spreading to another 27 countries, is part of World Breastfeeding Week (August 1-7), co-ordinated in the North by the Northland DHB, Women's Health Awareness, Plunket, La Leche League and Parent's Centre, with the aim of normalising breastfeeding as part of everyday life.
Ms Morunga is no stranger to breastfeeding, having breastfed her 9-year-old daughter until 25 months. She sees The Big Latch On as an important event.
"It's promoting breast-feeding in our community, also I am meeting other mothers who are breastfeeding."
And that's the main purpose of the event, Northland DHB lactation consultant Janine Parsons said.
"To celebrate breastfeeding, recognise the community support for breastfeeding mothers, to normalise breastfeeding, and for mums to have the encouragement and support of one-another, because we know mother-to-mother breastfeeding networking leads to a longer duration of breastfeeding."
The optimum time for breast-feeding is two years-plus, she said.
"Breastfeeding has got a huge amount of health, social and emotional benefits.
"Examples of health benefits for baby include reduced rate of hospital admissions due to less infections, better brain development and reduced rates of obesity.
"That's why it is so important for communities to be supportive and encouraging towards breastfeeding mothers."
On Saturday Far North babies latched on at the maternity unit at Bay of Islands Hospital in Kawakawa.