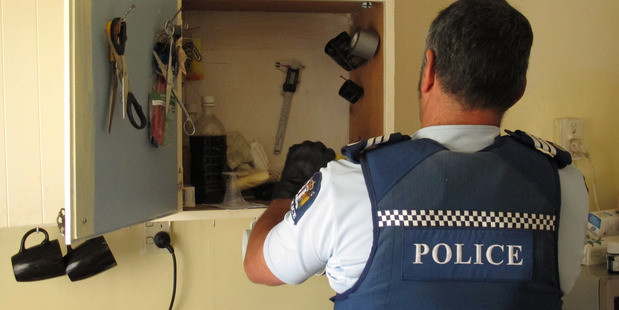 Northland police have made their second large Class A drug bust in a week, finding 24g of methamphetamine, LSD tabs and $3320 cash after stopping a vehicle in Kaikohe.
Northland Police communications manager Sarah Kennett said officers stopped a vehicle about 1pm on Monday and located some methamphetamine and cash.
Following the search of the car, police searched a Kaikohe address and located more drugs and cash.
In total 24g of methamphetamine with a street value of more than $20,000, five tabs of LSD, and $3320 cash were found.
Mathew Beazley, 44, and Olivia Howard, 39, have appeared in the Kaikohe District Court on charges of possessing methamphetamine for supply and possessing utensils for methamphetamine. Beazley was also charged with possession of the drug LSD.
The pair were remanded in custody and will appear in court again on August 19.
The bust came less than a week after methamphetamine with a street value of $150,000 was found after a raid on a Hikurangi house.
Almost 154g of methamphetamine - also known as P - $21,000 in cash, a P lab, a .22 calibre pistol and stolen property were allegedly found when the Whangarei Tactical Crime Unit with support from the Armed Offenders Squad raided the house early last Tuesday.
Less than 24 hours later police found 100g of cannabis, thousands in cash and a pipe for smoking methamphetamine during an unrelated random vehicle stop.
Detective Senior Sergeant Dene Begbie said the 154g of methamphetamine was one of the largest hauls of the drug ever found in Northland. A gram of P sells on the street for about $1000.
No pleas were taken when Shane Legg and Tuara Kingi appeared in the Whangarei District Court last Wednesday charged over the seized drugs from Hikurangi.
Anyone with information on the illicit drug trade can contact the Tactical Crime Unit at Whangarei Police on 09 430 4500 or Crimestoppers on 0800 555 111.