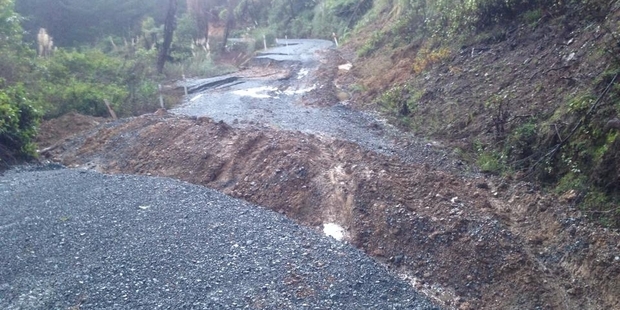 The Waitangi Tribunal will be hearing Ngati Hine evidence against the Crown at Tau Henare Marae in Pipiwai next week - if tribunal members can get there.
A Ngati Hine leader, Pita Tipene, has emphasised his hapu's disapproval of Crown policies sidelining rural Maori by providing a photograph of Pipiwai Rd between Matawaia and Pipiwai which people attending the tribunal's Te Paparahi o Te Raki inquiry at the marae could have to negotiate.
The road remains blocked by slips, Mr Tipene said, adding: "It highlights the fact both central and local government have been content to alienate Maori land through their governance but look disdainfully at small Maori communities and ignore infrastructural maintenance in those areas."
He received a Far North District Council email on Friday saying engineers had recommended closing the road as it could not be made safe due to the serious slips. It was highly unlikely the road would be re-opened in time for the tribunal hearing, starting on Monday.
About 50 Ngati Hine Treaty of Waitangi grievance settlement claims among the 350 lodged with the tribunal on behalf of Ngapuhi are set down for hearing at Pipiwai next week.
Most people thought Treaty claims were for grievances made against land sharks active in the mid-1800s, but some land grabs were more recent, Mr Tipene said.
Many Pipiwai families had their homes demolished and burnt, forcing them to migrate into towns, when the Te Horo development scheme was initiated 50 years ago.
"During the early 1960s there were over 600 people from Te Orewai (the local hapu) living in the Pipiwai/Kaikou area. Individual families farmed their lands in either dairy or horticulture and were mostly debt-free," Mr Tipene said.
"But in 1965, 2920ha made up of 62 blocks were amalgamated by the Maori Land Court to form one block - Te Horo.
"Of this tribal land, only about 770ha was used by the Department of Maori Affairs during the 20 years of its management before the Te Orewai -Te Horo Trust was established in 1986."