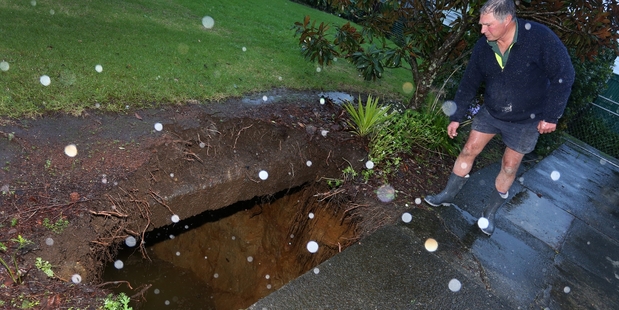 A Kamo woman got that sinking feeling when she spotted a massive hole next to her driveway - only metres from her house.
The hole - about a metre wide, three metres long and at least eight metres deep - appeared near the Boswell St home on Thursday evening.
It appeared the hole may be a mine vent but officials were to inspect the site today to determine exactly what had happened.
A strip of the woman's garden bordering the neighbouring reserve had collapsed into the hole.
The home owner, who did not want to be named, was contacted by a council official yesterday at 4.30pm.
Orange plastic fencing had been erected around the hole to stop people getting too close.
Whangarei District Council infrastructure and services group manager Simon Weston said engineers had examined the hole yesterday and would be back on site today to determine more about it.
It was not deemed a risk to public safety at this stage, however, other than the possibility of people falling into it if they got too close, Nor was it a sign that more holes could appear.
"But we are taking a precautionary approach," he said.
The hole had been cordoned of and Mr Weston said it was probably part of the old mining system that lay under parts of Kamo.