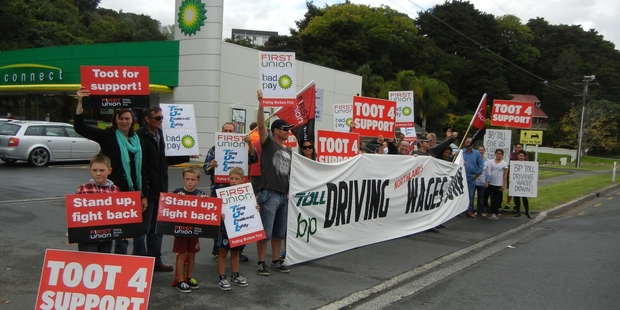 Whangarei petrol tanker drivers on strike because Toll Carriers will not pay them more staged a picket line outside the BP Connect Riverside petrol station despite the fuel company saying the industrial dispute is not of its making.
Six Toll Carriers drivers are striking after wage negotiations that have been underway since January came to an impasse. The FIRST Union-supported drivers hope to put pressure on Whangarei-based Toll Carriers in meeting its BP delivery contract.
Customers were made aware of the industrial dispute yesterday as about 30 supporters joined the picketing drivers and union staff. At one stage Whangarei Police were called to the scene after complaints the picketers were blocking one entrance to the station.
BP spokesman Jonathan Mills said the dispute was between a transport company, its employees and their union. BP had taken steps to have its fuel delivered by other companies or its own tanker fleet so the Northland supply would not be interrupted, he said.
Union organiser Jared Abbott disagreed with the claim the stand-off had nothing to do with the petrol company. "BP are the power in the chain. There's no way a company that size couldn't exert pressure on Toll," he said.
Mr Abbott said Toll's local drivers earned $30,000 less than their counterparts at other companies.