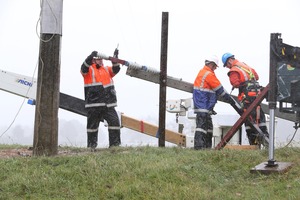 Northpower Chief Executive Mark Gatland is asking the public to remain patient as lines crews continue to restore power in Kaipara and Whangarei.
"In high wind and storm events, conditions are obviously very challenging and the safety of our staff is critical. They have to work very carefully to ensure they can keep themselves safe in order to keep the public safe. Due to the high winds and rain they cannot afford to rush repairs. They are doing a great job out there and as always, they will get the power back on as soon as they can," Mr Gatland said.
"We have a number of outages right now - many of them due to large trees across lines - but we expect the weather conditions to ease throughout the day and we will continue to provide outage updates as they come to hand."
Thousands of Northpower customers are still affected by power outages, says Mr Gatland. Power has been restored to parts of Taipuha, Brynderwyns, Portland, Whatitiri, Tutukaka and Turiwiri. However, power supply has recently been lost in Kaiwaka, Mangawhai and Jordan Valley.
Areas still without power include Maungaturoto, Whakapirau, Langs Beach, Ngunguru, and Kensington (Russell Rd only).
People should report the potential cause of any power outages to the Northpower Faults line - 0800-10-40-40.
Members of the public are asked to remain clear of downed powerlines at all times, keep others clear and also keep animals away.
In the Far North, electircity faults are occurring across the region, and main feeder faults are under repair in the areas of Kaikohe, Kawakawa, Awanui, Okahu Road, Omania, Taipa, Waipapa, and Whangaroa, a spokesman for Top Energy said.
"Approximately 4,800 customers are affected by these faults currently and our line and vegetation clearance crews are progressively restoring supplies, and making good progress doing so. We will attend to the main feeder faults first, and then the smaller line and individual no power faults after that," he said.
"We would ask people to report power outages, or any potential causes of power outages, to our number 0800 867 363."
Members of the public are asked to remain clear of downed powerlines at all times, to keep others clear and also to keep animals away.