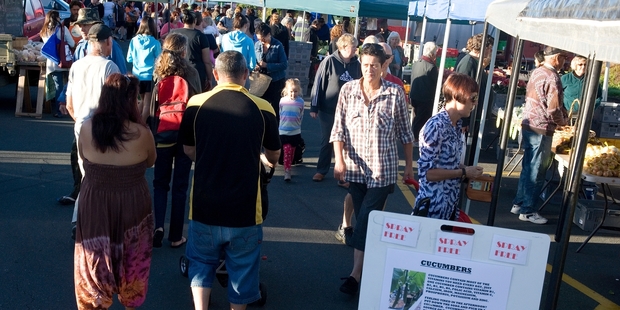 From humble beginnings 15 years ago Whangarei's Growers Market (WGM) has blossomed into a major economic driver, pumping more than $9million a year into the local economy with jobs for more than 100 people.
A new report on the market's impacts, carried out by NorthTec, paints a rosy picture of the market that started out in a carpark off Dent St 15 years ago and now has about 60 stalls every Saturday morning in the Water St Carpark.
Market co-administrator Murray Burns said the study showed the market's value, and he and fellow administrator Robert Bradley are keen to expand the market and want more carparking for shoppers.
The study deemed the WGM as a community asset, with its annual turnover of $3.66million creating an additional $5.84million of activity for the Northland economy. Ninety people were directly employed, it said, with a further 22 downstream.
However, the survey found, its economic impacts were less significant than the social impacts of the market as it helped a growing awareness of the contribution of fresh fruit and vegetables to public health.
"Customers appreciate the quality of food on offer, including its freshness and the availability of sprayfree and organic produce," the report said. "Other social impacts identified ... include the attraction of the market to the migrant community, the community building nature of the market as a social space and benefits for local retailers."
Grower Ken Walker has been selling at the market almost since the start, and says it has saved his business as he is getting a fair price for his produce. He had started off with a cousin selling greens, but had since gone his own way and now mainly sells avocados, onions and garlic. He credits the market with making growing and selling in the district worthwhile.
"We had the feeling when it started that it might take off. As a small grower we wanted somewhere to sell our produce where we could get a fair price," Mr Walker said.
"We saw the benefit of selling our produce locally at a better price than we could get from selling to the supermarkets. This way people get very fresh produce, with most picked the day before the market, which means they pay less and we earn more."
Mr Burns said when the market was founded it was initially to provide an alternative place for growers to sell their produce at a fair price without having to deal with the supermarkets. He has been pleased, though not entirely surprised, at how big it had grown and its place in Whangarei's social scene. He was keen for further expansion.
"This report shows the importance of the market in our community and it's good to see we are on the right track and providing a great place for growers and the community," Mr Burns said.
"We have a lot of organic and sprayfree produce, which is very popular, and it's generally cheaper than the supermarkets and everything's very fresh."
Its focus on local, fresh produce was appreciated by all and the market was only limited by the lack of parking spaces nearby for people to use.
He was looking at expanding things so that parking spaces could be available to bring groups from rest homes and retirement villages so the elderly could get fresh produce while a regional cuisine competition was also on the cards.