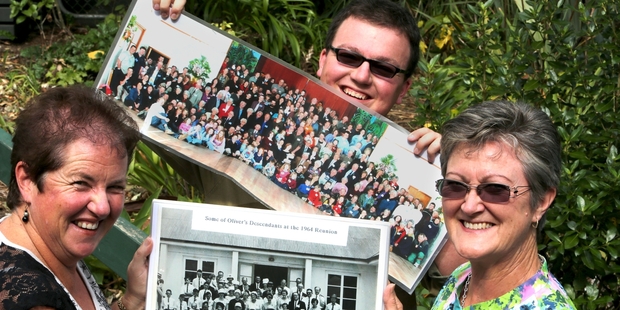 Maungakaramea pioneer Thomas Child was a youngster by name but a patriarch by nature, fathering seven children whose marriages have linked his surname with many prominent Northland families.
Members of the McLennan, Clotworthy, Clarke, Codlin, Griffin, Deeming, Burke, Somerville, Collins, Mudford, Boyd and Donaldson families can claim direct lineage from Thomas Child and his wife Mary-Ann or are extended branches of their clan.
About 200 descendants of the pioneering couple, who arrived in New Zealand on board the 462-ton emigrant ship Harwood in 1858, will celebrate more than 150 years of settlement in the Whangarei district with a family reunion on April 26.
A similar centennial reunion was held at Maungakaramea in 1964. This time the festivities will be held at Forum North in Whangarei, beginning with registrations at 9am and working through family memorabilia and photo sessions to dinner and dancing in the evening.
It will undoubtedly be an occasion of family warmth and security, far different to the conditions Thomas, then aged 29, and his new bride - he and Mary-Ann married a month before leaving England - encountered when they arrived in the infant colony.
They bought land through the Government 40-acre scheme, first at Mangapai and then in Maungakaramea.
Thomas no doubt rolled up his sleeves and got stuck into working his land, just like he had been doing as a tenant farmer back in Sussex.
Mary-Ann had to cope with the primitive conditions in their nikau whare as she prepared to have the first of those seven children.
Child family reunion committee treasurer Judith Gibson (nee Child) didn't even get around to the poor plumbing as she soundly condemned the low-comfort housing pioneer women had to endure.
"Mary-Ann must have been a very hard soul," she said. "The whare was in the middle of a track and Maori could walk through it at any time."
Following the births of Elizabeth, Fanny, Charles, Alice, Annie, Francis and Garnet, Mary-Ann died, aged 42. Her youngest daughter, then aged nine months, was brought up by her sisters.
Thomas lived to 80, watching his brood expand and multiply.
He is great-grandfather to perhaps the strongest family of sheep dog trialists in the country with brothers Murray and Neville Child both earning national honours and several more of their kin barking at their heels. They will all be at the reunion.
But the best-known sportsman among Thomas's progeny - All Black prop Tony Woodcock - is not expected to make it to the family knees-up because of rugby commitments.