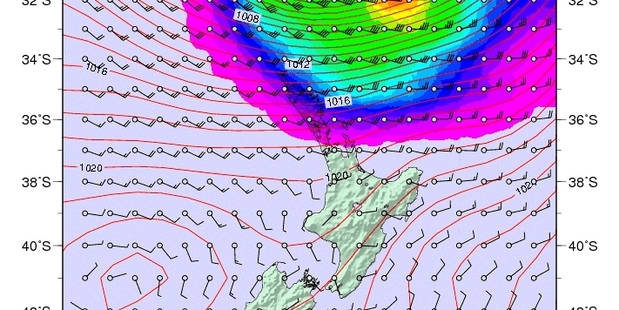 Northlanders are being warned to expect a dramatic change in weather later tomorrow as severe gales of up to 90km/h and 100mm of rain in some areas could cause widespread flooding and beach erosion.
MetService has advised particularly those living on the east coast to stay indoors on Saturday morning, when the worst of a sub-tropical weather system associated with Tropical Cyclone Lusi moves south from Cape Reinga.
"The blood and guts of the weather pattern will be felt early Saturday, when the easterly gales and rain will intensify," MetService meteorologist Daniel Corbett said.
He said today and the first half of tomorrow would feature patchy clouds and east to southeast winds, but the first band of rain and high winds would be felt as tomorrow evening approaches.
"The centre of the cyclone will be close to Cape Reinga and the winds will sort of drift west of Northland, then bend towards Cook Strait.
Things will slowly start to improve for Northland by Saturday evening," he said.
Seas with up to 5-metre waves, heavy rain and beach erosion in the eastern parts of the region were likely, he said.
Mr Corbett said that, as a category three cyclone near Vanuatu, Lusi currently packed winds of 150km/h but would be downgraded to category one as it moved to cooler waters.
But he warned that it still had potential to cause severe damage and could dump extensive rain in Northland.
The Ministry of Civil Defence and the Coastguard have also warned Northlanders to expect heavy rain, severe gales, large waves and abnormally high tides from tomorrow evening until late on Saturday.
Coastguard boating education general manager Neil Murray said: "As with all cyclones or tropical storms, there is still a degree of uncertainty regarding Lusi's track. This will dictate the exact distribution and extent of any severe weather over the country but will become more accurate to forecast as it approaches New Zealand."
Whangarei's record rainfall in the past two decades was 300mm recorded over 24 hours in 1995.
In the March 2007 storm, 413.5mm of rain dumped on Puhipuhi and smashed a record that had stood since 1905.
An equally staggering 400mm fell on Kerikeri's western hills.
Ex-tropical cyclone Wilma was the last adverse weather occurrence in Northland in January 2011, dumping up to 280mm of rain in parts of the region over 19 hours.
The storm caused widespread flooding, slips and damage to roads and property, and left about 3500 properties across the region without power.