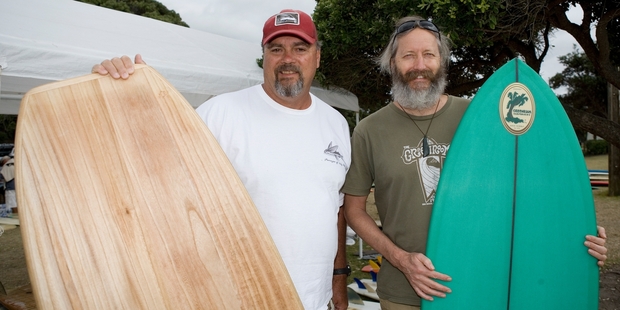 Hundreds of surfing enthusiasts flocked to New Zealand's first Fish Fry at Waipu Cove.
Yesterday's event saw local and international surfers and shapers converge on Waipu Cove beach to discuss boards and surfing in New Zealand.
Organiser - and Northern Advocate photographer - Michael Cunningham said he was extremely pleased with the turnout.
"We've got international and local people. The guy from San Diego [Sean Mattison] is one of the founders of the Fish Fry movement, so it's awesome to have him here.
"Everyone's got into the spirit. It's not a commercial day. It's about meeting people, talking about boards, meeting shapers and having fun," he said.
Sean Mattison is a former American professional surfer, current professional surf coach and designer of surfboards and surfboard fins named Von-Sol. "It's an incredible turn-out. I've seen some great designs and re-acquainted with some great people," Mr Mattison said yesterday.
"It's a really neat event of people sharing the same interest."
San Diego-based surfboard shaper Rich Pavel was equally as impressed. "[It's] smashing. I see precisely who we hope to attend and show up. It's inclusive. I'm definitely going to leave a piece of my heart here. I'd love to be here annually," Mr Pavel said.
Whangarei local Ross Edge, 74, started surfing 50 years ago, and brought four boards to display at the Fish Fry, the oldest being a 1965 longboard.
"I heard about [the Fish Fry movement] overseas. I think I would keep coming along even if I don't go surfing anymore," he said.
Young Sandy Bay surfer Manu Scott-Arrieta, 16, was at the event selling raffle tickets to fundraise for his trip to Ecuador for the ISA World Juniors at the end of this month.
"I've heard that it's a massive international event, so it's sick that it's come here."
Follow the event from this year in to the future at http://thecovefishfry.blogspot.co.nz.