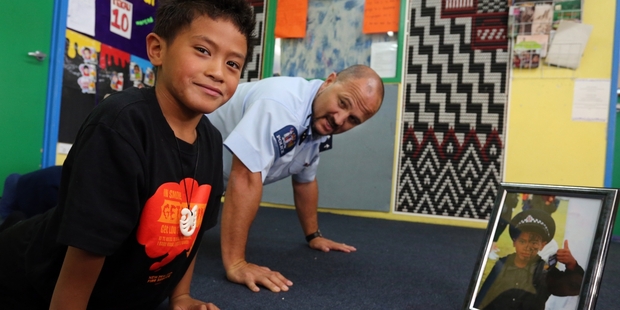 A special connection between a keen young athlete and the police force might foreshadow a potential career for the young boy.
Tawhio Maru's fifth birthday was a special one with two police officer guests, gifts and a cake at Raumanga Kohanga Reo.
Tawhio attended Waitangi Day celebrations with his family earlier this year and enjoyed spending time at the Police tent at Waitangi having a go at the police fitness test and other activities.
Whangarei Police Constable Hank van Engelen was at the police tent taking photographs of the young people getting involved in the activities when he met the youngster.
Mr van Engelen said he took a photograph of Tawhio and wanted to personally deliver it to him.
"It was a great thing to see - the interaction with the tamariki, and a really great photo."
Mr van Engelen and Whangarei/Kaipara Acting Area Commander Inspector Justin Rogers visited Tawhio during lunchtime at the kohanga reo yesterday.
Mr Rogers said the police presence at Waitangi was about showing young people that police officers don't only deal with criminal activity, they can also be involved in a positive way.
"We were trying to get good interaction with tamariki and police on a different level," he said.
"Tawhio was one of many that came along and had a go. We got this mean photo and we wanted to get along and show him, then we heard it was his birthday and his last day at kohanga."
Tawhio was born on the day the new police station was opened in Whangarei, a nice coincidence that might have been prophetic.
"Who knows, he might end up working there one day," Mr Rogers said.
Tawhio's parents were there to watch him be presented with the photograph and birthday cake and also a taonga for finishing kohanga reo from his teachers.
Tawhio's mother Angel said she was proud of her son, who loved outdoor activities. While he had no police officers in his whanau, he took a real interest in the police officers he met at Waitangi and the ones who visited him yesterday, she said.
"He loves sport. I'm trying to find a rugby team that he can play for because he loves running around," she said.