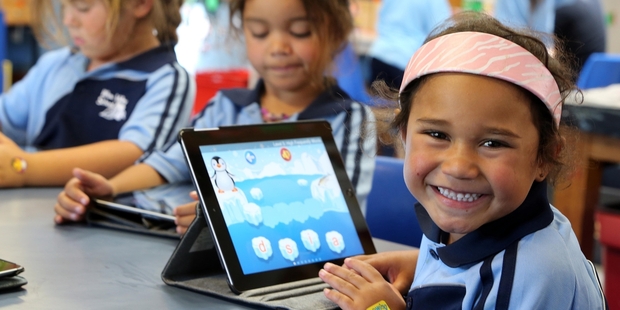 One week down, 13 years to go.
Katia Bennett-Mackie has completed her first week of her whole school career with a big smile on her face.
Katia's mother Rosina Bennett said her daughter spent all summer counting down to the start of school.
"She's been quite mature for a quite a while," Ms Bennett said.
"Yesterday she was telling me she is now writing the letter I and letter A."
Katia is in room one at Whau Valley School with 11 bright young kids.
They are among the 2420 Northland children due to start school this year, 400 of which will have started in term one.
Katia said she loves using the five iPads the classroom has to share between the kids.
Katia was comfortable and knew a lot of students and teachers at the school before starting, Ms Bennett said.
"Everybody knows her there because she went to the Mokopuna [Early Childhood Education Centre] behind the school and has two big brothers (Kewene, 8, and Kahu, 10) at the school."
Room one teacher and deputy principal for Whau Valley School Irene Kelly said it blows her away how intuitive the pupils are when using the latest technology.
While five pupils concentrate hard on spelling, counting and playing musical games on their iPads, other pupils play with building blocks and a puzzle show just as much enthusiasm.
"There is such a range now for the kids," Ms Kelly said.
The 5-year-olds were enjoying their new experience of going to school, Ms Kelly said, with plenty of daycare visits being essential to a smooth start to school.
Katia's classmate Natalie Maihi-Hansen, 5, said school was fun and playing piano on the iPad was her favourite thing to do.
She said the best thing about school was learning and making friends.
Ms Bennett said now that all three of her children have started school fulltime she was feeling a bit of empty-nest syndrome.
"I can get heaps of stuff done now, and I'm starting to look for a job."