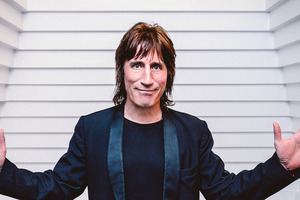 IT'S been more than 14 years since Jordan Luck and his band, The Exponents, played the last of some legendary gigs at the equally infamous Tutukaka Hotel.
The hotel burnt to the ground in 2000, just a few days after The Exponents played a gig there, but on Sunday, February 2, Luck and The Exponents will be back at Toots, as part of a strong line-up for the Classic Hits Winery Tour.
Also on the tour are Breaks Co-op and Kiwi pop star Stan Walker.
When Luck takes to the stage, he will be looking almost directly at where the old pub stood.
"I loved The Toots. It was one of my favourite venues. It was such a sad day," Luck says.
"It was about two weeks beforehand that we played there and the owner was telling me they were going to put in a new kitchen and units out the back. Then we learned it had burnt down and the only things left standing were the old units and the kitchen.
My heart fell at that time. I remember it had some beautiful kauri in the building - we always played out the back, but inside was all this lovely kauri - and I would have loved to have got some of that kauri to make a guitar with.
"I don't suppose there's anybody out there who managed to save some of it from the building?"
Current Advocate editor Craig Cooper, then a reporter, was the person who rang Luck up to tell him about the fire, a distraught Luck floating the possibility of writing a song about Toots.
"Sadly there was no song, poem or Ode To Toots, alas, but I've got some wonderful memories of the place so we're really looking forward to playing out that way again," Luck says.
"I think I've been out Matapouri way since then but we definitely haven't played there so this will be revisiting the past for us.
"I remember one time in about 1987 when I had to hitchhike back to Auckland [from Tutukaka] to watch an FA Cup game, I think between Coventry and Everton, and got picked up by a couple of really nice guys who took me all the way to Auckland.
"I was only a short way from the pub and it was about 12.30 in the morning but these guys gave me a lift all the way there.
"I remember another really great gig there with Mike King, quite early on. It was one of those shows where we just wanted Mike to keep going because he was such a great laugh. I remember you could get over 1000 people in the Toots and it had such a great atmosphere."
With The Exponents responsible for some of New Zealand's most loved songs, it's also likely to be a case of revisiting the past for many of the 3000 who will attend the Tutukaka leg of the Winery Tour.
Luck says it's always a pleasure to listen to thousands of fans singing his words back at him on stage.
"It's awesome just hearing them all singing over the top of me. It takes over pretty much every sort of emotion possible, but it's just euphoric.
"Even the sad songs have that emotive high on stage when it's being sung back at you."
It helps that The Exponents are such a great live band though, and have the songs to boot.
"We did a gig at the Powerstation and it was recorded on the desk and afterwards the producer asked if he could overdub me singing on I'll Say Goodbye because the crowd was just so loud you couldn't hear me, even on the desk. The crowd was louder than the monitors and there was just this huge wave where the audience sings along. It's grand that everybody knows those songs.
"This is going to be a fantastic tour and hopefully there will be more of those moments."
This is also Luck's first Winery Tour.
"I know Fat Freddy's and many of those that have done previous ones and they've all said it's a great tour with some superb gigs and great refreshments. It's not the most gruelling schedule, with four days in a row the longest, followed by three days off, so I'm looking forward to having a ball."
But Luck - a well known drinker -has been off the booze and on the wagon for about two years now so how does he find performing sober when most of his earlier gigs were done under the influence of something?
"I've been asked before if that's a bit of a dichotomy, but to be honest it doesn't really make much difference to me. Sure, some of the after parties can be a wee bit different, but I just go out and perform the best I can regardless.
"Some people say, though, that my voice sounds better now since I've stopped [drinking]."
"And I'm sure we will all [the Winery Tour acts] get up together on stage at some time for a bit of a jam together."
It's a bit of a Winery Tour tradition, Jordan, so it would be rude not to.
"Exactly."