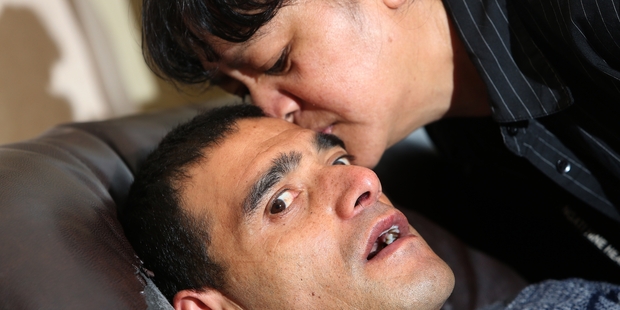 Rugby-mad Henare Parangi is frugal with money but will do what he can to replace his monster flat screen TV that was stolen during a break-in while he was away.
The 39-year-old Whangarei man who suffers from cerebral palsy is gutted some low-lives chose to nick his beloved television and deprived him of watching his favourite sport and the not-to-be-missed Shortland Street.
He left home to visit his whanau at Te Tii on December 16 last year and discovered the theft upon his return last Monday. Also stolen were a DVD player, a radio, a computer modem, meat from the freezer and assorted groceries. The thieves gained entry by jamming a window open.
Mr Parangi celebrates his 40th birthday next month and is upset about the burglary, but determined to move on.
Speaking on his behalf, general manager disability support services for the Ngati Hine, Janice Gardner, said the theft was devastating for a person who worked hard to get what he wanted for his house.
"There are more vulnerable people being preyed upon and Henare needs more support than the neighbourhood watch scheme," she said.
Ms Gardner said it was heart-breaking for Mr Parangi to return home and have to do his grocery shopping again as the thieves had taken his food.
"He's resilient ... won't let such things get in his way," she said.
His love for rugby took him to Eden Park during the Rugby World Cup in 2011 where he watched the opening match between Tonga and the All Blacks.
Two pictures of him, together with the match ticket, are framed on a wall in the Housing New Zealand home he lives in. Mr Parangi has also met the cast and crew of Shortland Street in Auckland.
Ms Gardner said he was part of the whanau leadership group within Ngati Hine's disability support services that visited 16 marae in Northland to increase awareness about issues facing people such as him. These include access for guide dogs in marae, lowered bench tops and the availability of female interpreters.
In late April, he will feature in video clips explaining his role within the leadership group.
Whangarei police are investigating the burglary.