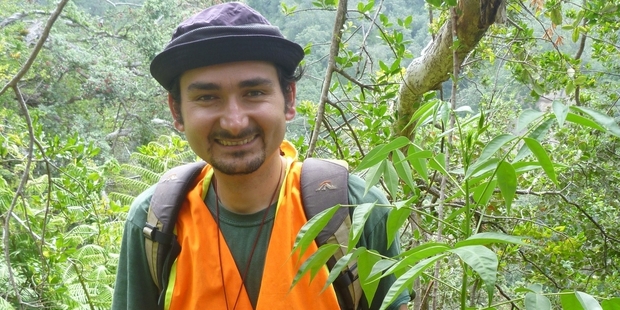 Department of Conservation staff broke down in tears yesterday as they apologised for failings which contributed to the death of a volunteer on a remote island.
In emotional testimony at the inquest of Mihai Ioan Muncus-Nagy, 33, which began in Auckland, a ranger and two senior managers all struggled to compose themselves while giving evidence.
Mr Muncus-Nagy is presumed dead after disappearing on Raoul Island, in the Kermadec area in January last year. He went missing as he was taking temperature readings from water on Fishing Rock at the island about 1100km northeast of Cape Reinga. His body has never been found.
Life vests and water safety equipment were available to workers on the remote island where the Romanian volunteer was swept to his death, but not used.
Brooke Connolly, a DoC biodiversity worker responsible for training Mr Muncus-Nagy, said there was a shed close to the platform where they conducted water temperature readings on Fishing Rock which stored equipment and safety gear, including life vests.
However, she said while everyone knew the life vests were there, they were "not specifically" provided for the water testing and no one wore them while carrying out that duty.
Her evidence also suggested Mr Muncus-Nagy had not followed procedure when he went out that morning, not taking a radio with him and failing to sign the board to notify the others where he was going.
The widow of Mr Muncus-Nagy, Kinga, flew from Romania to attend the proceedings this week.
Paul Rennie head DoC ranger on Raoul Island, said he had taken Mr Muncus-Nagy's death personally and had made a promise to himself to ensure health and safety on the island was improved.
He spoke about how he considered him a friend, developing a close bond over a short period of time.
Sean Godard, then DoC's Auckland conservator which also placed in him charge of the Kermadec region, apologised directly to Mrs Muncus-Nagy.
Moments earlier Mr Godard said his department "should have done more" to ensure Mr Muncus-Nagy's safety.
DoC pleaded guilty last year to failing to ensure the volunteer's safety, and spent much of yesterday's proceedings outlining the changes it had made since his death.
A number of DoC senior staff gave evidence detailing the health and safety procedures now in place on the island.
The inquest continues today. APNZ