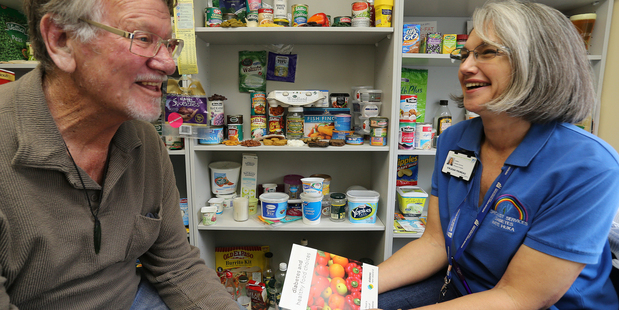 There are now over 10,000 Northlanders with diabetes, and it's projected that seven per cent of Northland adults will have diabetes by 2020.
They are scary figures, says Whangarei Diabetes Clinic nurse manager Amy Savage.
"There's been a seven per cent increase of people with diabetes in Northland and nationally.
"Unhealthy lifestyles is one of the biggest factors. It's also genetic - people with family members who have diabetes will have more of a propensity to get diabetes."
Today is World Diabetes Day, and this week is Diabetes New Zealand's awareness week.
Diabetes is diagnosed when a person has too much glucose (sugar) in the blood, which happens because the pancreas cannot make enough insulin.
There are two types of diabetes - type 1 (where people do not make any insulin and need to inject it) and type 2 (people make insulin but the production is sluggish or their body is resistant to insulin).
Ninety per cent of diabetes sufferers have type 2. Becoming overweight is almost always the cause of the body becoming resistant to insulin and can trigger type 2 diabetes, even in young people.
Part of the work the Whangarei Diabetes Clinic does, in partnership with Manaia PHO, is educate people about good nutrition, which helps diabetics to self-manage their condition, and helps prevent people from getting the disease in the first place. "Prevention is really important," Ms Savage said.
"It's really about getting tested early if you have family members who have diabetes; doing 30 minutes' exercise a day and eating healthily - which means a low sugar, low fat, high fibre and low salt diet with five portions of fruit and vegetables a day."
She said Manaia PHO conducts 'supermarket tours', where staff take diabetics and their relatives through supermarkets, identifying ideal items for their shopping trolleys.
"[Knowing what to eat] is instrumental in their management [of their diabetes]," Ms Savage said.
Whangarei Diabetes Centre also offers the services of a dietitian, as well as nutritional courses for diabetics, such as the upcoming MAUDE (Making Adjustments Using Diabetes Education) course later this month.
Long-term complications of diabetes include damage to blood vessels behind the eyes and kidney failure - which is particularly common in Northland, Ms Savage said.
"It's [kidney failure is] a large problem we have in Northland, but for some people, it could have been preventable.
"Diabetes isn't dangerous at all, when there is an early diagnosis, management and on-going monitoring," she said.
"We encourage people to have at least one annual WOF."
Diabetes NZ encourages people to see their doctor if they have these symptoms: feeling tired and lacking energy, feeling thirsty, going to the toilet often, getting infections frequently, which are hard to heal, poor eyesight or blurred vision and often feeling hungry.