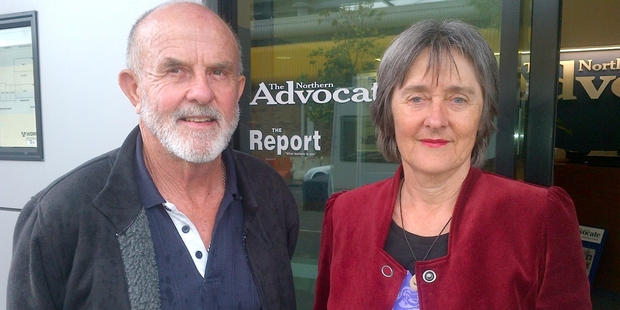 Northlanders opposed to mining and mineral extraction can stop the activities if they act early enough in the process, a visiting Australian who was instrumental in mining giant Rio Tinto pulling out of expanding a mine near his home town says.
John Krey, prime organiser of the tiny Australian town of Bulga's uprising against mining giant Rio Tinto, and Green Party MP Catherine Delahunty were in Northland last week to talk to anti-mining campaigners in Kaeo, Puhipuhi and Whangarei.
Mr Krey is the vice-president of the Bulga Milbrodale Progress Association that recently won a landmark court ruling preventing the expansion of an open cast coal mine close to the town's boundary. Rio Tinto argued it needed to expand an open-cut coal mine to 2.5km from Bulga to make an existing operation financially viable, but the court ruled the social impacts outweighed the economic benefits.
In that finding, which is being appealed, Judge Brian Preston accepted Rio Tinto's environmental assurances were "flawed", its economic reasoning was "flimsy" and its business case "was based on a model so old it pre-dated mobile phones".
Mr Krey said his message to Northlanders opposing mining and mineral extraction was simple - "fight it all the way."
"And fight it right from the very start of the process. Don't let it get consent then take action as you can only fight it then on a point of law."
The Government sees mining and mineral extraction as a potential panacea to Northland's woes and has granted several exploration permits in the region, including at Kauri Mountain and Puhipuhi and is looking for tenders to drill for oil off the Far North coast.
But Mr Krey said such activities won't do much for unemployment and will be bad for the environment. "Any jobs that come are generally skilled jobs. They won't put a guy off the dole into a multi-million dollar truck or piece of equipment, they want trained staff to do that and will generally bring their own people in rather than employ locals to do that."
"The mining companies will come in and play Robin Hood, promising some people work and wealth to divide and rule."
Ms Delahunty said it was clear there was widespread opposition to mining and mineral extraction among Northlanders, but those people would find that their MPs - National's Mike Sabin and Phil Heatley and Labour's Shane Jones - generally supported the practice. "But Hone (Harawira, Mana Party Leader and Te Tai Tokerau MP) and (The Greens) David Clendon (who lives in Kerikeri) are against and people opposed can contact them."