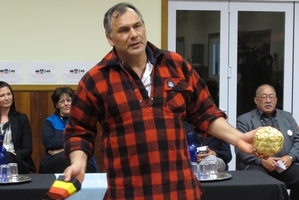 A marae-based campaign to get Maori more engaged in local elections seems to have paid off, with voter turnout in the Kawakawa-Moerewa area jumping from 32 per cent in 2010 to more than 45 per cent in this year's vote.
Although overall turnout increased in the Far North, the big improvement in Kawakawa-Moerewa is thought to be attributable in part to Otiria Marae's efforts to get locals interested and persuade Maori to stand for election.
The marae had set ambitious targets of a 50 per cent turnout this year and 85 per cent in six years' time.
Spokeswoman Mylie George said marae members were "really stoked" to reach 45.6 per cent and motivated to keep going for another six years.
Planning was already underway for a candidates' evening ahead of next year's general election. Other events included a youth forum with Maori Party co-leader Te Ururoa Flavell from 5.30pm on October 29 aiming to make rangatahi more politically savvy and interested in political careers.
George said the marae was always confident Willow-Jean Prime would get in - the 30-year-old lawyer from Moerewa collected the second-highest vote of any council candidate - but was disappointed that none of the candidates put forward by Ngati Hine in Whangarei were voted in. It was also surprising that Rangitane Marsden did not get more votes in the Te Hiku ward.
"We're a little bit disappointed only a few Maori got in but it's only the beginning. All in all we're really excited. It's the first time our community has been excited about an election, and all we can do is build on that."
Mayoral candidate Rueben Taipari Porter - who said during the campaign he had entered not to win but to raise Maori participation - said lifting the Maori vote was "a work in progress".
The feedback he had received was that Maori wanted to take part but first had to get beyond a lot of negative history.
More had to be done to make local politics and the voting process relevant to youth, he said.
While he was disappointed at first with his share of the vote, he believed his "shock attack" style of campaigning may have cost him votes.
Porter said he had enjoyed the experience and was determined to run again in the next election. In the meantime he would keep working to help his people understand the importance of taking part.
Porter's 1014 votes placed him fifth in the mayoral race.
The highest polling Maori mayoral candidate was Mita Harris with 1307.
Kawakawa-Moerewa's turnout is still behind the Far North average of 48.9 per cent. The district's best turnout was in Russell-Opua with 55.1 per cent.