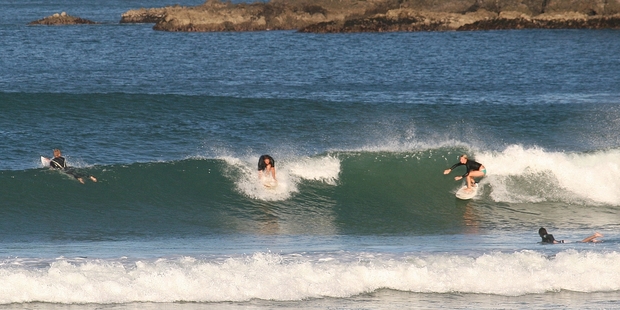 The number of Far North residents who hurt themselves in the water in the past year was more than double the national average, ACC figures show.
The figures came during ACC Safety Week as Minister Judith Collins warned people to beware of seemingly innocuous everyday hazards.
ACC's annual report showed from June last year to June 2013, the Far North's claims rate for water sports injuries was more than double the national rate at 78 claims per 10,000 people, compared with 34 nationally.
Far North Surf Rescue chairman Simon Smith said Far North beaches in the region "weren't Piha", but they still posed dangers.
A large number of surfers at Ahipara surf breaks could also have contributed to the higher rate, he said.
"Surfing injuries could be part of it. We've got one of the best surfing spots up here."
Surfing was dangerous for people who were unfit, inexperienced or not prepared, he said. "A board might smack you, or your own board might smack you."
Rocks and sharks were also hazards for people in the water. Despite this, the cost of claims in Northland is dropping, with ACC paying out more than $92 million to claimants in the region in the year to June, compared with more than $113 million in 2008/2009.
More than half of injuries in the region happened at home, totalling close to $27.8 million in claims.
Sport and recreation injuries were the next most common, followed by road accidents.
Despite dropping over the last five years to 4855 claims per 10,000 people, Whangarei's injury claim rate is still about 1000 more than New Zealand's average.
Injury rates in the Far North and Kaipara are more in line with the national average.
Nationwide, injuries cost the country $7 million a day.
The annual report showed ACC accepted 1.7 million new claims in the 12 months to June 2013, for a total cost of $2.6 billion.
Claims expenditure was $208 million under budget, reflecting a reduced number of claims and better rehabilitation performance, the report said.
Medical treatment accounted for $449 million, while $234 million was paid out for hospital treatment and elective surgery.
Compensation for lost wages was the highest cost, at $759 million, while $406 million was paid out for "social rehabilitation" like home help, child care, and house modifications like wheelchair ramps.
In the year to June 2013 more than 32,000 people had surgery, 27,594 were injured while cycling, 6210 were injured from dog bites and 11,565 were injured from insect bites.
Knees and shoulders were injured most often, and more than 400,000 people claimed for physio treatment.
More than 42 per cent of new claims were the result of injuries sustained inside the home.
ACC Minister Judith Collins said ACC's Safety Week was aimed at raising awareness of risks - especially during "seemingly harmless" activities.
"This year we are reminding New Zealanders that they don't have to be out on the rugby field or skateboarding to be at risk of an injury," she said.
"While sport and recreation claim numbers are an on-going area of focus, a significant number of accidents happen during routine and seemingly harmless activities."
New Zealanders should take a look at safety in their own daily routines, she said.