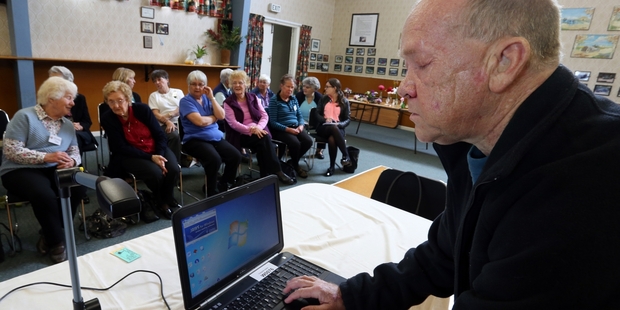 Phones, computers and tablets are being programmed to make them accessible to blind and partially sighted people.
Craig Jessop is the adaptive technology specialist for the Royal New Zealand Foundation of the Blind in Whangarei.
Mr Jessop was blinded in a car accident in 1989. He runs adaptive technology courses in Northland to explain how certain software can be used to turn cellphones, laptops, and tablets into talking devices that can be used by anybody.
Mr Jessop demonstrated the software to the Maunu Women's Gardening Club on Tuesday. Other technology he demonstrated included a camera that can magnify text and pictures and show them on a laptop or computer enlarged, which is useful for partially sighted people, he said.
"The remarkable thing is that when Steve Jobs was developing the iPhone he wanted to make it usable for everybody," he said to the audience, before demonstrating how easy it is for blind people to use an iPhone.
Within the device the software is already included that can turn the touch screen smartphone into a talking device. "It seemed unachieveable that any blind person could use a touch screen phone," he said.
Mr Jessop can use the technology with ease and speed, setting the iPhone to talk to him at such a rate the regular listener could not understand what was being said.
The women in the club raise money each year to sponsor a guide dog to be trained for the Royal New Zealand Foundation of the Blind.