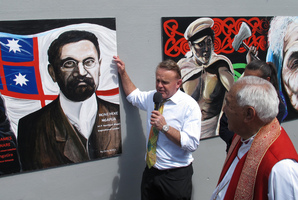 The transformation of a town square into an outdoor hall of fame celebrating Northland heroes represents a new beginning for Kaikohe, the art teacher behind the project says.
Hundreds turned out to see the students of Northland College unveil 13 panels depicting 35 great Northlanders mounted around Marino Court, also called Library Square, in central Kaikohe on Wednesday.
The famous Northlanders chosen by the students range from world unicycling champion Chris Huriwai and rugby star Rene Ranger to the late police Sergeant Paddy Whiu and poet Hone Tuwhare. Other panels are dedicated to historical figures such as the warrior chief Hone Heke and peacemaker Tamati Waka Nene.
During the unveiling ceremony each artist explained their choice of hero, students performed waiata and haka, and many speeches were made. Retired Bishop Ben Te Haara said he did not realise Ngapuhi boasted so many artists.
''We have so many creators in this place, which is forgotten by so many people, especially those in authority,'' he said.
New Northland College principal Jim Luders said the murals showed Kaikohe's artistic talent, ''and this is just a fraction of what out tamariki [children] can do''. Mr Luders paid tribute to art teacher Chris Wilkie, who had given up his weekends and school holidays for the project and was still working on it late on Tuesday night.
Community board chair Win Stephens said the turnout showed Kaikohe's community spirit.
''Everybody outside wants to knock this town, but you tell me another town where they'd have a turnout like this to see what their kids have done.''
Some of the heroes themselves turned out to see their likenesses, including world women's rugby champion Cheryl Waaka and legendary bass player Billy Kristian.
The event also celebrated Mr Wilkie's own project to transform one wall of the square with a series of giant portraits of ordinary Kaikohe residents. A series of paintings of Maori faces are linked to a row of tauiwi [non-Maori] with a rainbow kowhaiwhai pattern and a message of welcome, which he finished moments before the unveiling.
Other speakers included kaumatua Te Wati Erueti and Nau Epiha, Kaikohe Business Association chairman Steve Sangster, and John Carter in his first official duty as new Far North Mayor.
Other famous Northlanders depicted include Maori Battalion commander Sir James Henare, land rights campaigner Dame Whina Cooper, Victoria Cross recipient Willie Apiata, boxer Daniella Smith, basketballer Pero Cameron, All Blacks Buck Shelford and Sid Going, weaver Toi Maihi, actor Rena Owen, MP Hone Heke Ngapua and missionary Henry Williams.
The Wall of Fame project was driven by Mr Wilkie and supported by the Kaikohe Business Association as part of its Project Kaikohe Pride. Funding came from Pub Charities and the Kaikohe-Hokianga Community Board.
An exhausted Mr Wilkie said the transformation of the square represented a new beginning for Kaikohe. The college was also starting an exciting new era with a new principal and plans for a multi-million-dollar rebuild.
He was keen to add more paintings in future because so many great Northlanders, such as the artist Ralph Hotere and the waka builder Hec Busby, had yet to be included.