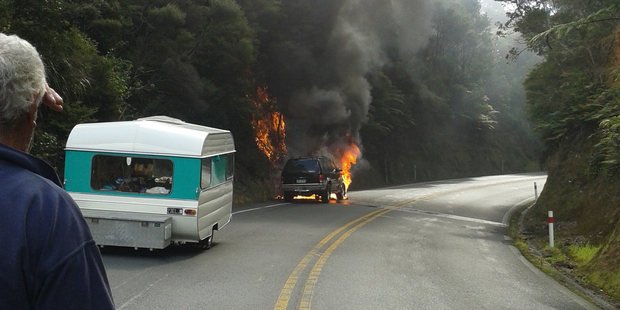 A family en route to a holiday in Whangarei are lucky to be alive after the vehicle they were in caught fire while they towed a caravan with a gas bottle on the back.
The Ford Explorer four-wheel drive burst into flames on State Highway One on the Auckland side of the Brynderwyns, about 3.30pm yesterday.
In the vehicle was Auckland electrician Andre Dixon, his wife Diane and their 12-month-old daughter. They were on their way to Waipu for a holiday.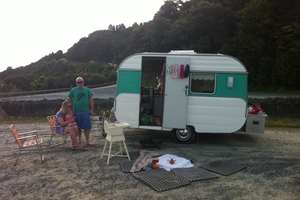 About half way up the hill, Mr Dixon said the vehicle suddenly lost power and he felt like its gear box was giving up before he saw steam coming out of the engine.
"I thought it was overheating so I pulled over but the steam got thicker and thicker and I told my family to get out," he said.
His wife was sitting at the back and managed to unclip the baby from her seat in time.
"I got out and saw more flames and fuel dripping down from under the van.
A motorist pulled over and got a fire extinguisher but the flames got worse and that's when I rang 111," he said.
"It was absolute panic. It was a petrol vehicle so I knew there was gonna be an explosion and I was concerned about an LPG gas bottle out the front of our caravan.
"Someone's quick thought suggested we take the gas bottle off the caravan off and as we did that and took it some 50 metres away, I saw the vehicle's tyres exploding and the nearby bushes catching fire as well."
Most of his family's belongings were in the caravan but they lost the baby seat, pram and toys that were in the vehicle.
"I've never heard a car catch fire before.
"I am glad I got out because there was nowhere to stop really. I pulled over in the middle of the road."