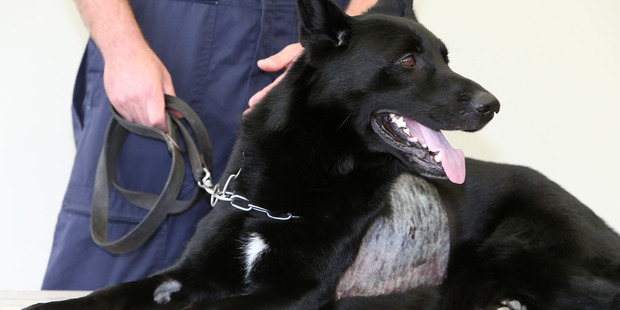 The Northland police dog who was stabbed in the lung during the arrest of a man in dense bush could be back on the beat within a month.
Whangarei police Constable and dog handler Pete Kinane said his best mate police dog Gus was making a speedy recovery and if the canine crime fighter passed some fitness tests they could be back pounding the beat in four weeks.
During a press conference at the Whangarei police station today Gus obediently sat on table, keeping a close eye on his boss and suddenly becoming very interested at the sound of nearby police sirens.
"He's bounced back real well. The stab wound went between the tricep muscle, through the chest into the lung. It doesn't get a lot worse'" Mr Kinane said.
The only clue to the horrific and life threatening injury Gus sustained last Thursday was a large section do shaved hair on his left side.
The stab wound on his shoulder was visible, but healing cleanly.
Mr Kinane said the stitches would come out in in 10 to 14 days and after a vet visit and clearance he would be back on the job.
He was very grateful to everyone who had helped ensure Gus survived and the massive amount of public support.
"In this job you don't deal with nice people so to get nice messages from the public is humbling. It's the motivation we need to get back on there every day and do our job."
The drama began when police were alerted to a 37-year-old man believed to have been carrying a knife and a firearm at his Parakao home, 40km west of Whangarei, about 4pm last Wednesday.
Members of the Northland Armed Offenders Squad, along with detectives and frontline officers, went to the property.
The man was reported to have been in an agitated state and while officers were placing cordons around the man's property, the man had allegedly stolen a quad bike from another property and rode off.
Police had chased the man, who had abandoned the bike on farmland and run off. AOS members and the police dog handler and Gus had started tracking the man through thick bush and the man was found about 4am. He had allegedly stabbed Gus and tried to stab the dog handler.
After a struggle police had arrested him.
Mr Kinane and a fellow officer got Gus out of the bush. They were then rushed to Mill Rd Vet Clinic in Whangarei where Gus was stabilised before being flown by police helicopter to Veterinary Specialist Group in Auckland. A team were on standby and were able to start their treatment of Gus immediately.
Head of the Northland police dog unit Sergeant Phil Kahotea said it was touch and go as to whether Gus would make it but thanks to the team work from everyone involved the canine duo would be back in action.
He said Gus was a very special dog and as well as tracking offenders was there to protect his handler as well.
Northland AOS commander Inspector Dean Robinson, who was at the incident, said if everything hadn't have coordinated the way it did Gus may not have survived.
Following a special hearing in Whangarei Hospital last Thursday a 37-year-old man was charged with aggravated assault on a police officer, attempting to kill a police dog, unlawfully taking a vehicle and assault with a weapon. The man was remanded in custody for a psychiatric report and will appear in the Whangarei District Court on October 14.
The charge of killing or injuring a police dog is punishable by a maximum of two years' jail and/or a $15,000 fine.